Miliband: Labour 'has work to do' in Scotland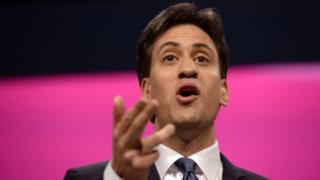 Ed Miliband has admitted his party has "work to do" to persuade thousands of disaffected Labour supporters to return to the fold.
Large numbers of traditional Labour voters backed independence in Thursday's independence referendum.
But the Labour leader denied the party was facing disaster in Scotland at next year's general election and the Holyrood election in 2016.
He also praised Scottish Labour leader Johann Lamont.
Ms Lamont is under pressure amid speculation that some Scottish MPs want her to stand aside and be replaced by a prominent figure such as MP Jim Murphy.
Speaking to BBC Scotland, Mr Miliband said: "I think Johann Lamont is an excellent leader of the Scottish Labour party and she has led us with distinction throughout this referendum campaign and throughout her tenure."
He also said former Prime Minister Gordon Brown had played an "incredible role" in the campaign to save the Union.
The Labour leader denied suggestions that his party is risking the avowed timetable for further powers for Holyrood set out by the three pro-union parties, because of wrangling over the prime minister's parallel pledge for English votes for English laws at Westminster.
'Measured way'
He insisted that his backing for a constitutional convention in the Autumn of 2015 - after the general election - which would consider devolution for England and the votes of Scottish MPs at Westminster was "not kicking it into the long grass".
Mr Miliband added: "I think we need to be very careful about back of the envelope changes to our constitution. Our United Kingdom is a fragile precious thing and we shouldn't play fast and loose with the constitution in a way that puts it at risk. Let's do it in a calm and measured way."
On those further powers promised to Scotland, he said: "I have made it absolutely clear that the timetable will happen. No ifs no buts. The people of Scotland can be absolutely reassured that promise will be kept."
Last week, Labour strongholds such as North Lanarkshire, Dundee and Glasgow voted in favour of leaving the UK.
Mr Miliband said: "We have got to reach out to a lot of people who voted 'Yes', a lot of Labour voters who voted 'Yes'. I know they will be disappointed. But I want to persuade them we can change things.
"I'm optimistic about our chances at the general election and in the Scottish elections. I know we have work to do to reach out to those voters."