Scottish referendum: Generation 2014 give their verdict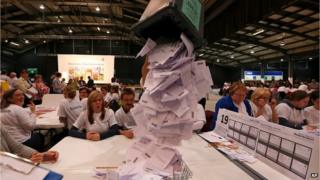 Scotland's independence referendum allowed 16 and 17-year-olds vote for the first time. We caught up with three from our Generation 2014 panel to see how they got on.
Max Yuill, 17, from Glasgow
Max found the experience of voting for the first time "really exciting".
"It was an amazing experience", he said. "Even going up to the polling station was really nerve-wracking."
Max was a committed "No" voter who stuck with his decision on the day. But he understood the gravity of the decision he was taking: "You feel really grown because you're making a big decision," he said.
"It was a real mix of emotions when you ticked the ballot and put it in the ballot box."
Max did what no 17-year-old had done before Thursday, using his free period at school to go out to vote. He is now a committed member of the electorate: "I think I will always want to vote in the future," he said.
"I never was really interested in it before, but now it's really, really, interesting."
Ellie Kean, 16, from Dundee
Ellie was a postal voter, choosing to back "Yes" last week. Although she did not make it to a polling booth, she said voting "still felt pretty good".
She says she was "clueless" at the start of the Generation 2014 project, but that it was helped her make up her mind.
"I went to loads of debates and got lots of opportunities, especially meeting all of these people who are into it."
And being with engaged young people helped seal the deal, allowing Ellie to hear different points of view then looking "into the things that meant something to me".
"It helped me make a decision," she concludes.
Ellena Leslie, 17, from the Highlands
Ellie says she found casting her first ballot "surreal".
"There was so much happening in my mind, it was such a big decision," she says the day after the poll. "It's not properly sunk in yet how big a deal it really is."
"It's so important to not just young people, but everyone in Scotland, everyone in Britain and to be honest it is quite important for everyone in the world. It will affect everyone."
She had been an undecided voter for much of the campaign, but came down on the "No" side on the day, raising uncertainties over the cost of education as her main reason.
"I was undecided but leaning towards 'No'.
"In an independent Scotland there's lots of uncertainty. I want to go to university but I don't think I'd be able to afford it if I had to pay for my tuition fees.
"That was a big thing for me and I think it was a big thing for a lot of young people."
And what does she think about the her decision? "This was such a big event for me and I really felt like I made a difference and that my opinion really did matter."
Finlay Allmond, 16, from the Highlands
Finlay also uses the word surreal to describe his ballot box experience.
"It was quite nerve-wracking really", he says. "I've always strongly supported the "No" campaign, but when I got into the polling booth I did hesitate for a minute, I thought 'I actually have to make a decision now'.
"When I got there, it was quite surreal that I was there and 16 and had the option to choose what I wanted my country to look like forever."
All four teenagers thought 16 and 17-year-olds should get the vote
Ellena concluded: "If young people did get the vote and people realised that their voice is important, I think a lot of people would engage more. We've seen with the referendum so many young people have got engaged."