Scottish independence: Yes campaigners stage Glasgow rally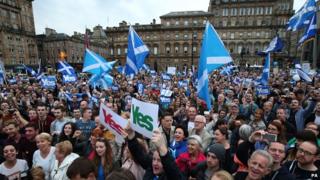 About 1,500 pro-independence supporters bearing Saltire flags, badges and blue campaign T-shirts have held a rally in the heart of Glasgow.
Rank-and-file Yes supporters used megaphones in George Square to declare "This is our time" and chant "yes, yes, yes, yes".
Some of the crowd sang Flower of Scotland and songs by the Proclaimers.
The event followed a pro-Union rally which was held in central London on Monday.
That rally, held in support of Scotland remaining part of the UK after the referendum, drew speakers such as Bob Geldof and comedians Eddie Izzard and Al Murray.
Speakers at the Yes event in Glasgow included actor Martin Compston and singer Ricky Ross from Deacon Blue.
On Thursday, voters in Scotland will be asked: "Should Scotland be an independent country?"
The latest polls suggest the vote remains too close to call.