Scottish independence: Ministers say 'Yes' vote offers 'unique opportunity'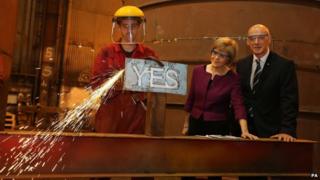 Scottish government ministers have said a "Yes" vote on Thursday will give Scotland a "unique opportunity" to secure job creating powers.
Deputy First Minister Nicola Sturgeon and Finance Secretary John Swinney visited Steel Engineering in Renfrew.
The company works in the renewable energy industry.
However, Shadow Foreign Secretary Douglas Alexander said the Better Together campaign was offering "faster, safer and better change".
Leaders of the three main Westminster parties have made a pledge to devolve more powers to the Scottish parliament in the event of a "No" vote.
Ms Sturgeon said: "Scotland is amongst the wealthiest countries in the world. As an independent nation we would start from the strongest possible economic foundations and using the powers that come from voting 'Yes' we will be able to build from these foundations.
"Scotland has the wealth, the confidence and the abilities to be a successful independent nation. With a 'Yes' vote on Thursday we can secure the job creating powers that will enable us to make the most of all our opportunities."
'Right for Scotland'
She added: "A 'Yes' vote is a chance to elect a government that will be focused on a job creation policy solely for Scotland and a government that will use the wealth of our economy to support public services like the NHS and to invest in our future."
After a meeting with apprentices at Steel Engineering, Mr Swinney added: "By having the power to make decisions about our own future we can choose to invest our wealth and our resources in manufacturing, in renewables, and innovation.
"We can ensure access to high quality education and training is available to all, and where our recovery has been slowed by Tory spending cuts we can elect governments who will pursue economic policies that are right for Scotland.
"Thursday's referendum is a golden opportunity for Scotland to vote Yes and to build an even stronger economy for future generations."