Scottish independence: Commons to debate more Scotland powers, says Brown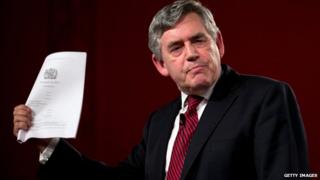 Former prime minister Gordon Brown will lead a House of Commons backbench debate on increasing the powers of the Scottish Parliament, he has said.
The 30-minute adjournment debate is being held on 16 October, after Thursday's independence referendum.
Mr Brown has already set out a timetable on new Holyrood powers in the event of a "No" vote.
First Minister Alex Salmond has said only independence would deliver the powers Scotland needs.
Mr Brown, who was campaigning in Glenrothes and later at a rally in Glasgow, said: "Last Monday I proposed a timetable for new powers for a stronger Scottish Parliament within the UK, which all the pro-devolution parties in Westminster and Holyrood agreed with."
The Labour MP added: "I have now been allocated an adjournment debate in the House of Commons for Thursday, 16 October 2014, which will set in motion our promise of delivering new powers to the Scottish Parliament."
Mr Brown's timetable on new powers, backed by the Conservatives and the Liberal Democrats, would see work begin the day after the referendum, with draft legislation due to be published in January 2015.
Mr Salmond said the plan unveiled by Mr Brown was "a retreading, a repackaging, a re-timetabling of what they said in the spring".