Scottish independence: Day of 'celebration' not 'reckoning' says Salmond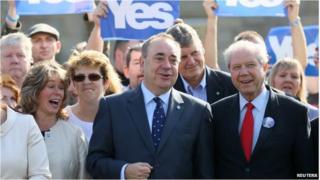 Scotland's first minister has said there would be "a day of celebration" not "reckoning" for big companies if the country votes for independence.
Alex Salmond was responding to comments from former SNP deputy leader Jim Sillars.
Mr Sillars had said oil giant BP and the banks faced a "day of reckoning" in the event of a "Yes" vote.
Pro-Union figures said the remarks were threatening to firms voicing legitimate concerns.
Mr Salmond praised Mr Sillars, the husband of the late MSP Margo Macdonald, saying he was "fighting a fine campaign" for Scottish independence.
He said: "Jim Sillars is a great campaigner who has put aside his personal grief over the loss of his wife Margo MacDonald to put his heart and soul into galvanising the 'Yes' vote.
"He is fighting a fine campaign all over Scotland - but the day after a 'Yes' vote will be a day of celebration for the people, not reckoning for big companies drawn into the No campaign by Downing Street.
"Jim was simply trying to express the anger felt by so many people about the revelations that some supermarket statements were orchestrated by the prime minister himself."
'Nationalisation'
On Friday, following interventions by some banks, retailers and other businesses ahead of the 18 September referendum, Mr Sillars accused them of "subverting Scotland's democratic process" and called for oil firm BP to be nationalised after independence.
He added: "This referendum is about power, and when we get a 'Yes' majority we will use that power for a day of reckoning with BP and the banks."
Mr Sillars' comments led Labour MP Ian Davidson to say: "His words are a clear threat to anyone who points out the true costs of separation to the people of Scotland."
Mr Davidson, speaking for the Better Together campaign, added: "Sillars stood shoulder to shoulder with Alex Salmond this week claiming to be positive. Now we see the real face of nationalism in all its ugliness."
However, Mr Sillars later appeared to play down his earlier comments.
Speaking to Today on BBC Radio 4, on Saturday he said: "I knew when I used terms like 'reckoning' and 'nationalisation' that I would get exposed both on radio and television."
He said he wished to tell BP shareholders: "It's time you reined this man [BP chief executive Bob Dudley] in."
He added: "For us to nationalise BP would be a major problem.
"We don't have the ability to nationalise the North Sea, there's about 570 rigs."
'Consequences'
He warned if major institutions such as Standard Life wanted to relocate south, trade union rights might be strengthened, for instance to extend the period of redundancy notice firms would have to give workers.
Mr Sillars appeared beside Mr Salmond and his current deputy Nicola Sturgeon at a pro-independence event earlier this week.
The two men are said to have fallen out 20 years ago, with Mr Sillars recently describing Mr Salmond's plans for a currency union after independence as "stupidity on stilts".
Labour MP Jim Murphy argued that uncertainty over currency if Scotland voted for independence was one of the factors prompting businesses to intervene.
"I think it's remarkable that over the past 72 hours we've had company after company here at home and across the world really warning about the consequences of independence," he said.
"And Alex Salmond has no-one to blame but Alex Salmond.
"Because he can't tell us what currency we would use in an independent Scotland, all of these have issued those sorts of warnings."