Scottish independence: Cameron 'a hindrance' to 'No' campaign, says Prescott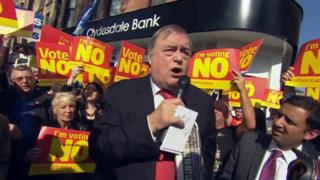 David Cameron's visit to Scotland is probably a hindrance rather than a help to the "No" campaign, former Deputy Prime Minister Lord Prescott has said.
There were ill tempered scenes between "Yes" and "No" supporters while Lord Prescott was campaigning in Rutherglen.
Better Together leader Alistair Darling had to be escorted to a taxi by police as he left the scene.
Mr Cameron made an impassioned plea to keep Scotland in the Union, while Alex Salmond accused him of "panicking".
Labour peer Lord Prescott said of the Conservative prime minister: "If he can get rid of the Scots in the Westminster Parliament, he will have an English parliament representing 53 million people against - if you go for separation - five million Scots.
"Do you think they are going to be favourable towards you? No."
He added: "We in the northern areas and the English regions look to your support to make sure we are able to deal with a massive Tory vote."
'One team'
Lord Prescott also suggested a combined England and Scotland football team.
"Perhaps if England and Scotland together had one team, we could at last beat the Germans - who knows?" he said.
Speaking to the BBC afterwards, Lord Prescott, who was deputy prime minister under Tony Blair, said he thought Mr Cameron's visit to Edinburgh was probably a "hindrance" to the "No" campaign.
In an article for the Daily Mirror, Lord Prescott wrote: "We've got the Bullingdon Boys on the run down south but we need your help to finish the job. If you leave, we'll have to stand alone.
"So stick with us in this fight and we'll both kick them in the ballots at the general election. United we stand. Divided we both fail.
"Please don't walk away from the fight. Britain needs you now more than ever."
'Disconnected'
Former Scotland international Michael Stewart, of the pro-independence group Sport for Yes, said: "These comments from John Prescott are off-the-ball and highlight how out of touch Westminster politicians are about what is happening here.
"By wheeling out people like Lord Prescott, the 'No' campaign is showing how desperate it has become.
"I think the average Scottish football fan will hear this and see how totally disconnected the 'No' campaign is from mainstream Scottish opinion.
"On the one hand Lord Prescott says he wants to give us more powers, and on the other he suggests taking away our football team."
Mr Cameron, Labour leader Ed Miliband and Liberal Democrat leader Nick Clegg are all campaigning in Scotland for a "No" vote in the 18 September referendum on independence.
The prime minister told an audience: "I care far more about my country than I do about my party,"
Scotland's First Minister, Alex Salmond described the leaders' visits as "Team Westminster jetting up to Scotland for the day because they are panicking in the campaign".