Scottish Independence: Salmond says Queen of Scots 'will be proud'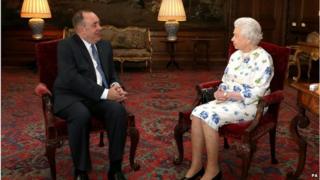 First Minister Alex Salmond has said the Queen "will be proud" to be the monarch of an independent Scotland.
The SNP leader dismissed press reports that Her Majesty was concerned about the prospect of Scottish independence.
He said he had an audience with the Queen at Balmoral Castle two weeks ago but would not say what was discussed.
"I want the Queen as head of state, as Queen of Scots of an independent Scotland, as her ancestors were," he said.
Mr Salmond was speaking at a photocall outside St Giles Cathedral in Edinburgh.
He said: "I think Her Majesty the Queen, who has seen so many events in the course of her long reign, will be proud to be Queen of Scots, and indeed we would be proud to have her as monarch of this land."
The first minister said he thought the statement released by Buckingham Palace regarding the Queen's neutrality was "a perfectly satisfactory and perfectly sensible" response to the press rumours about her concern.
Mr Salmond added: "Of course, one thing that the polls showed at the weekend, in addition to the substantial move to the 'Yes' campaign, is the enthusiasm of the people of Scotland to have Her Majesty the Queen as our Queen of Scots."
Under the plans for independence outlined in the Scottish government's white paper, the Queen would remain head of state.
It says: "On independence Scotland will be a constitutional monarchy, continuing the Union of the Crowns that dates back to 1603, pre-dating the Union of the Parliaments by over one hundred years. On independence in 2016, Her Majesty The Queen will be head of state."