Scottish independence: Sturgeon hails 'patient persuasion' of Yes campaign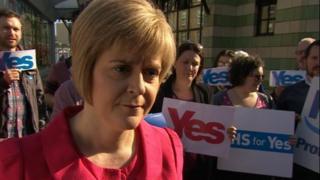 Deputy First Minister Nicola Sturgeon has said the Yes campaign will continue with "patient persuasion" of voters ahead of the independence referendum.
Ms Sturgeon said the campaign was not "taking anything for granted" with 10 days to go until the vote.
But she claimed an increasing number of women and Labour supporters were planning to vote "Yes".
The Better Together campaign claimed the SNP's currency plans were a threat to Scotland's "progressive agenda".
Ms Sturgeon was campaigning in Glasgow alongside Plaid Cymru leader Leanne Wood, following polls that suggested the outcome of the referendum was too close to call.
'Encouraging'
"I don't think there's any doubt at all the momentum is with the Yes campaign but there is no sense of our campaign taking anything for granted," the deputy first minister said.
"We saw one very welcome and encouraging poll yesterday putting us ahead, with another poll still showing us as slightly behind.
"We have campaigned on the basis of patient persuasion, often person by person right across the country, that's what we'll continue to do."
She added: "We are seeing in polls the gender gap close, I think that's positive, and Labour supporters increasingly supporting Yes.
"The reason for that is they want the same as I want - greater social justice, the ability to protect our public services, to invest in the health service not nuclear weapons and to be in charge of the decisions that shape our country."
Ms Sturgeon appeared at the Victoria Infirmary in Glasgow to push the Yes campaign's message that a vote for independence would protect the NHS in Scotland.
"We've seen our budget cut, we know there's more cuts to come and the more the budget is cut the harder it gets for any Scottish government to protect the things that matter, chiefly the National Health Service," she said.
'Risk'
Better Together raised a familiar theme of their campaign, arguing that uncertainty over a post-independence currency was "dangerous" for Scotland.
The pro-Union campaign highlighted an article in the New York Times by US economist Paul Krugman, which argued that "the risks of going it alone are huge".
Prof Klugman wrote: "You may think that Scotland can become another Canada, but it's all too likely that it would end up becoming Spain without the sunshine."
Scottish Liberal Democrat leader Willie Rennie said: "Professor Krugman's devastating warning over currency must serve as a wake up call to Alex Salmond. Paul Krugman is a darling of progressive economics for a good reason.
"He recognises that Alex Salmond's independence plan to use the UK pound like Panama uses the US dollar would leave the people of Scotland paying the price of any fiscal crisis.
"This would mean that consumers would shoulder the burden of a rise in interest rates or the brutal austerity measures which Krugman mentions were required in the case of Spain and many euro-zone countries to dig their way out of depression.
"That is a risk we do not need to take when we have the broader UK shoulders which can better protect our mortgages, loans and social spending.
"Alex Salmond's independence currency plans would throw our progressive agenda under the bus as we would be faced with the £6bn of cuts identified by the IFS and the calamity that would come with Alex Salmond's currency plans."