Scottish independence: Salmond says referendum 'not about the SNP'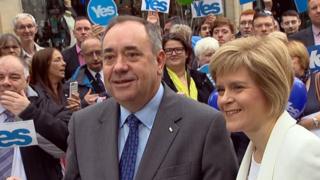 The Scottish independence referendum is not about the SNP but rather the right "to have the government of our choice", Alex Salmond has said.
The SNP leader said the party in power after independence would be "the choice of the people of Scotland".
He added that a "Yes" vote would also be a chance to build a fairer society.
Labour leader Ed Miliband predicted "the Tories are on their way out" and a UK Labour government could deliver social justice.
Mr Salmond, who has been named politician of the year by men's magazine GQ, spoke to BBC Scotland's political editor, Brian Taylor, as he marked his 10 years as leader of the SNP at an event in Glasgow.
'Fairer society'
He said: "It's the 10 years to come that's the exciting thing for Scotland, and that's the opportunity we've got to certainly build a more prosperous country but also a fairer society.
"Whichever political party is in power it will be the choice of people of Scotland and what could be better than that?"
The first minister was challenged over the Scottish government's proposal to cut corporation tax in an independent Scotland to 3p below the UK rate, part of a tax approach Mr Miliband has likened to Conservative policies.
"We do that because over a period it will create more jobs in Scotland, 27,000 more jobs, and will make the economy grow faster to allow us to finance our social justice policies," Mr Salmond replied.
He added: "This isn't about the SNP, it isn't about any political party. It's about the right of Scotland to have the government of our choice at each and every election. That's why so many people who normally vote Labour are swinging towards 'Yes'."
Mr Salmond and Deputy First Minister Nicola Sturgeon set out their "Scotland 2024" vision for an independent country over the next 10 years.
Pledges included the provision of free childcare, more apprentices, protecting the NHS and a state pension age "in line with Scottish circumstances".
'Electrifying argument'
Unveiling Mr Salmond as its politician of the year, GQ praised the SNP leader's "audacity, panache and persistence" in its Men of the Year Awards, published in the magazine's latest edition.
Mr Salmond has turned a once "hopeless constitutional case" into "an electrifying argument about modern Scotland", the magazine added.
It said: "He has made an art form of the underdog's plight, consistently outshining the Better Together pro-Union campaign, turning what was thought to be a fait accompli into a proper punch-up fought according to "Motherwell rules".
"Win or lose, Salmond has energised his country and bolstered its collective self-confidence.
'Social justice'
Mr Miliband, campaigning alongside Scottish Labour leader Johann Lamont, urged Scots to reject independence and help elect a UK Labour government in 2015.
The UK Labour leader said: "Change is coming in the UK. The Tories are on their way out."
He added: "We will introduce fairer taxes, including a new lower starting rate of 10p and a new higher rate of 50p. We will tax the bankers' bonuses and put our young people back to work. We will devolve more powers over tax, social security and the work programme. This is my plan for social justice.
"What is the SNP plan? A 3p cut in corporation tax. Low taxes for the richest with no return to the 50p rate. No to the energy price freeze and an end to the social justice of the United Kingdom."