Scottish independence: North Sea 'fracking' proposal made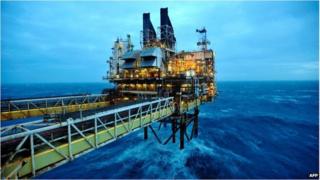 Underwater fracking could almost double the amount of recoverable oil and gas in the North Sea, it has been claimed.
The N56 business body said the technique could exploit Scotland's "unconventional" oil and gas resources.
N56 was founded by Dan MacDonald, a board member of the pro-independence Yes Scotland organisation.
Dr Gordon Hughes, professor of economics at the University of Edinburgh, dismissed the report as "pure guesswork".
Hydraulic fracturing, also known as fracking, has been heralded as a new source of energy in UK but onshore reserves in Scotland are thought to be limited.
N56 has now seized on a new proposal by petroleum geophysicist Dr Christopher Cornford to export fracking techniques to the North Sea.
It said the new technique - unveiled at the Unconventional Resources and Technology conference in Colorado, last month - could almost double the amount of recoverable oil from the industry's high end estimate of 24 billion barrels to 45 billion barrels.
The target is the Kimmeridge Clay formation, an Upper Jurassic organic rich shale which is the major oil and gas source rock for the Central and Northern North Sea.
The extra reserves could yield an additional wholesale value of £1 trillion to £2 trillion depending on oil prices, according to N56.
N56 adviser Graeme Blackett, from BiGGAR Economics, said: "Scotland's public finances would be given a colossal boost through access to these new oil and gas reserves.
"These finds are reminiscent of the early North Sea discoveries from over 40 years ago, such as the Brent Field, and would propel Scotland towards the top of the global league table in terms of oil and gas production."
The SNP's energy spokesman, Fergus Ewing, said the report showed the "strong possibilities" in offshore unconventional and hard to reach oil and gas.
He added: "We welcome the report and are interested in exploring the huge potential benefits for the industry and the country that it represents."
But in a statement released by the Labour Party, Dr Hughes said there were "thousands of basins" across the globe with these kinds of unconventional reserves of oil and gas in place.
He added: "The question, which this report largely ignores, is whether or not it is economic to develop them. This game of trying to calculate Scotland's oil and gas reserves has become almost a pointless exercise.
"There is a reason that the oil and gas described by N56 does not appear on most estimates of our remaining reserves - at current prices and with existing technology, it does not make economic sense to extract it.
"In the face of such uncertainty, no responsible government would place any weight on the prospect of fiscal revenues from such extraction."
Scottish Conservative energy spokesman Murdo Fraser said: "It's remarkable an organisation whose founder sits on Yes Scotland's board has discovered £300bn worth of oil just weeks before the referendum.
"I'm sure if these reserves existed, the Scottish government would have been falling over itself to announce it before now."