Scottish independence: Canadian PM backs Scotland staying in 'united' UK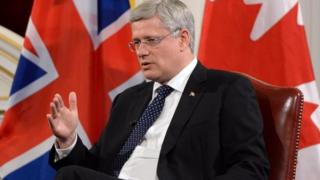 The prime minister of Canada, Stephen Harper, has voiced his support for Scotland remaining part of the UK.
Mr Harper said "greater global interests" would not be served by a "Yes" vote on 18 September.
Campaigners for an independent Scotland believe the new state would be a force for good in the world.
The people of Scotland will vote in the referendum on 18 September. They will be asked the "Yes/No" question: "Should Scotland be an independent country?"
The Canadian province of Quebec has twice voted against a form of independence, and Canada's current Conservative prime minister said he hoped Scotland will do the same.
Speaking in London ahead of the Nato summit in Wales, Mr Harper backed a "strong and united United Kingdom", echoing previous comments by the US president, Barack Obama and the Chinese premier, Li Keqiang.
Similar to other world leaders, Mr Harper acknowledges that it is for voters in Scotland to decide the outcome.
However, he argued that independence would not serve the interests of ordinary people in the UK or "greater global interests".
The Scottish government has said that an independent Scotland would contribute to global security as a non-nuclear member of Nato and increase spending on overseas aid.