Scottish independence: Man arrested over Jim Murphy egg incident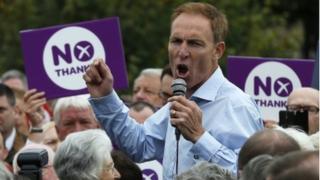 A 45-year-old man has been arrested and charged over an incident in which Labour MP Jim Murphy was hit by an egg in Fife last week.
Mr Murphy was hit on the back as he was speaking on the streets of Kirkcaldy as part of a tour campaigning for a No vote in the independence referendum.
Police said the man had been arrested over an assault during a disturbance in Kirkcaldy High Street on 28 August.
The man is expected to appear at Kirkcaldy Sheriff Court on Thursday.