Scottish independence: Senior Tories outline 'case for UK'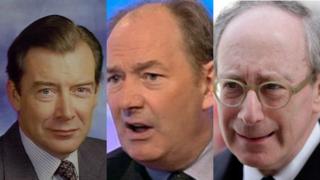 Three former Scottish secretaries have released a statement outlining their case for a "No" vote in the independence referendum.
Conservatives Lord (Ian) Lang, Sir Malcolm Rifkind and Lord (Michael) Forsyth said leaving the UK would result in "pain and blame".
And they said the economic and financial case for keeping the union was "unarguable".
The SNP said their intervention showed the pro-UK campaign was in "disarray".
The statement from the senior Conservatives said: "From our knowledge gained in government, we maintain that the economic and financial case against breaking up the United Kingdom is so clear as to be unarguable; that any hope that with independence Scotland could achieve material or social objectives unavailable within the union is vain; and that the chance of Scotland maintaining in isolation the wealth and strength she enjoys as part of Britain is non-existent."
'Different forces'
It added: "We warn that separation of Scotland from England, Wales and Northern Ireland after so long together would lead to pain and blame: that decades of aggravation would follow, to the detriment of all."
The politicians said Scotland has been liberated by being part of the union, stating that the country's identity had not "suffered in this partnership".
They said: "We contend that nationalism and patriotism are different forces. Patriotism is positive. It is open, forward-looking. It allows pride in Scotland and in the United Kingdom".
The three Tories also argued that remaining in the union would offer young people in Scotland opportunities.
'Clearest sign'
But Scottish Finance Secretary John Swinney said the intervention was a "gaffe" as Lord Lang, Sir Malcolm and Lord Forsyth - who between them served as Scottish secretary from 1986 until 1997 - were still associated with the introduction of the Poll Tax in Scotland.
He said: "The decision to draft in former Tory Scottish Secretaries is a major gaffe for the No campaign and the clearest sign possible of a campaign in utter disarray."
Referring to a recent YouGov poll which suggested support for independence was increasing, Mr Swinney added: "Things have gone from bad to worse for the No campaign in recent days as more and more people switch their vote to Yes.
"But they are deluding themselves if they think that calling in former Tory Scottish Secretaries is going to do anything other than undermine their standing further.
"These are the men who helped deliver the hated Tory Poll Tax to Scotland - something people in Scotland have neither forgiven nor forgotten.
"There could scarcely be a better argument for a Yes vote than the democratic deficit that these Tories represent."