Scottish independence: Campaigns focus on jobs and cost of living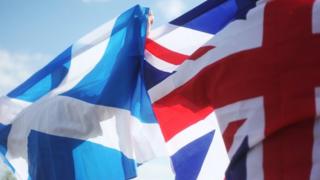 Campaigners for the Union have not guaranteed that Scotland would get new job creation powers if it rejects independence, the first minister said.
Alex Salmond said there was a "jobs gap" in the "No" campaign's offer of more powers after the referendum.
This week, Mr Salmond challenged both David Cameron and Alistair Darling to provide details of job boosting powers.
Meanwhile, Better Together have published a report saying a "Yes" vote would cost Scottish families dear.
It has examined the potential impact on energy bills, train tickets, pay slips, supermarket and credit card bills.
The report said the cost of living was currently lower north of the border than the rest of the UK but that this would go up if Scotland becomes independent.
It concluded this would be the case either because of a larger black hole in an independent Scotland's finances or the loss of pooling and sharing resources across the UK.
Launching the report in Edinburgh, Scottish Labour MSP, Jackie Baillie, said: "Times are hard enough as it is for families all across Scotland without increasing costs even more with independence.
"The fact is that independence would cost families in Scotland dear. The supermarket bosses and the energy experts have been very clear - leaving the UK would push up costs for families in Scotland.
"Being part of the UK we can spread the cost across an economy of more than 63 million people, rather than taking all the burden on the shoulders of Scottish families alone.
"We can have the best of both worlds for Scotland within the UK."
'Magic wand'
The first minister said that both Mr Cameron and Better Together leader, Mr Darling, had "confirmed the jobs gap in the No campaign's offer".
The SNP leader had challenged David Cameron to use his visit to Scotland this week to set out what additional employment boosting powers Scotland would be in line for if it stayed in the UK.
He also pressed Mr Darling on the issue when they went head to head in a BBC television debate.
Mr Salmond that while Scotland was "one of the world's richest countries" most people have "friends and family who have had to leave to get a job or further their career".
He added: "Independence isn't a magic wand but we'll be able to tailor economic policy to put job creation in Scotland first instead of a Westminster policy which has consistently favoured London.
"The Scottish government has already set out a long-term jobs plan which shows what can be achieved with control of key economic levers.
"By contrast, the failure of the No campaign to guarantee a single jobs power is important new information in the campaign as we reach decision point as a country."
Scotland will go to the polls in the referendum on 18 September, with voters being asked the "Yes/No" question: "Should Scotland be an independent country?"