Scottish independence: Jim Murphy hit by egg on referendum trail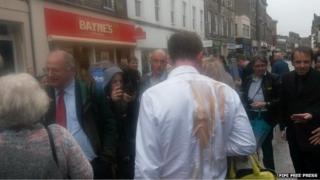 A Labour MP has been hit by an egg after being confronted by pro-independence supporters while campaigning ahead of the referendum.
The incident happened as Jim Murphy was speaking on the streets of Kirkcaldy as part of his 100 Towns in 100 Days tour for Better Together.
Mr Murphy was hit on his back by the egg as he stood on his "soapbox" in the Fife town.
Police Scotland said it was investigating the incident.
A spokesman for the force confirmed: "Police were informed of a gathering at the Mercat, Kirkcaldy, this afternoon, and around 15:30 received a report of a disturbance where a number of eggs were thrown.
"Enquiries are ongoing into this matter."
The incident was witnessed by Allan Crow, editor of the Fife Free Press newspaper, who tweeted that "Yes" supporters had chanted over Mr Murphy as he attempted to speak.
Mr Crow added that Mr Murphy was "totally drowned out by Yes heckler" and added: "Some folk simply losing plot here!"
A short time later, Mr Crow tweeted: "And now some idiot is throwing eggs at @jimmurphymp - even cracks one on his back. Truly pathetic."
A spokesman for Yes Scotland said: "There is no place for attacks - be they abuse, graffiti, vandalism or physical assault - in this campaign and we have been at pains to impress on everyone, on both sides of the debate, to treat others with respect at all times."
Better Together said it would be inappropriate to comment as the incident was now a police matter.
But Mr Murphy later tweeted: "Now off to another #indyref debate in Glasgow. Might look scruffier than usual but the egg stains aren't mine #WishI'dBroughtASpareShirt".
The Courier newspaper reported on Wednesday that Mr Murphy had been verbally abused while campaigning on the streets of Dundee and Montrose.
Also on Wednesday, former Prime Minister Gordon Brown had a speech in Dundee interrupted by a pro-independence protestor.