Scottish independence: Targeting floating voters on a ferry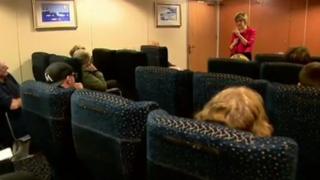 Passengers on the overnight ferry from Aberdeen to the Northern Isles were left in no doubt that the final stages of a political campaign were underway.
"Serco Northlink Ferries are pleased to welcome on board Miss Nicola Sturgeon" echoed the public address system as the MV Hrossey set sail for Kirkwall and Lerwick.
Scotland's deputy first minister was heading north on the campaign trail and, like any decent politician, she didn't miss an opportunity to try to win over a captive audience.
In the ferry's cinema, Ms Sturgeon addressed a group of passengers, joking that she was not sure she had her sea legs.
They were a friendly audience, made up largely of "Yes" supporters, most of them floating voters only in the literal sense.
"We can absolutely do this" Ms Sturgeon said to them, as she set out the Scottish National Party's plans for greater island autonomy in the event of a vote for independence on September 18.
"One of the things about independence is making sure decisions are taken as close to the people they affect as possible," she told the BBC on the deck.
"I don't want independence just so we can transfer powers from Westminster to Holyrood. There's a big opportunity to transfer powers further down to communities across Scotland."
Some 12 hours later, the ferry slipped in to a still sleepy Lerwick, the morning sun shining brightly but a chill breeze suggesting that summer was kissing goodbye for another year.
The town is closer to Oslo than to London, closer to Bergen than to Edinburgh and there is no doubt that many islanders feel more of an affinity with Scandinavia than with Scotland.
The local Liberal Democrat MSP, Tavish Scott, scoffed at Ms Sturgeon's trip north, suggesting that his rival was all talk.
"I don't think we need independence," he said, "we certainly don't need remote government from Edinburgh.
"We've had seven years of nationalism and all they've done is remove powers from our responsibility.
"So I don't think anyone will believe any 'Yes' campaigner coming up on the boat to Shetland today who's going to promise something which may only happen if there's independence."
Either way, Lerwick is booming just now.
Seven accommodation barges in these waters are home to some of the 2,000 construction workers who are building a new gas terminal for Total and redeveloping BP's old Sullom Voe facility.
There is talk of a mountain of black gold in the "monster" Clair Ridge development to the west in the Atlantic Ocean which, although it was discovered in the 1970s, was only brought into production in the past decade.
Shetland appears to have done very well out of oil, squirreling away North Sea revenue in its own investment funds, which have improved the quality of life for many of its 22,000 inhabitants.
Partly for that reason, but also because of geography, history and culture, many islanders are keen to talk about how much control they should have over their own affairs, whether or not Scotland votes for independence.
---
DOCUMENTARIES - Scotland's referendum
BBC Scotland has been broadcasting a series of in-depth films looking at various aspects of the Scottish independence referendum debate.
---
There is even some talk of independence for Shetland itself although that does not seem to be a serious prospect at the moment.
In the centre of town Jennifer Watt, 51, a social care worker, is in favour of Edinburgh or London devolving more power to Lerwick.
"I would like to see the benefits for the people she says," adding "I think we should get more independence even if there was a 'Yes' vote."
Ms Watt is not so sure that everyone on Shetland has done well out of oil, saying "I've never seen any real prosperity for the islands," and fretting gently about the "disruption" caused by the influx of men working on the giant building sites.
John Hunter, 60, an accountant from Scalloway agreed that further powers for the islands would be good news.
"From a Shetland point of view, we just want our own powers," he said.
"We're not too bothered whether it comes via Edinburgh or via London. We just want to be able to do our own thing because we are a bit separate from the rest of the UK.
"We are a very rural area. We've got very specific needs," he said, complaining that the "Edinburgh government" tends to look towards Scotland's central belt.
These messages are getting through. All of the main political parties are now competing to offer extra powers to island communities here, on Orkney and on the Western Isles too.
Yes, no or maybe, it seems the campaign for islanders to have more say in their own affairs, is now full-steam ahead, as Shetland and Britain sail towards a vote which could change the face of this island nation.