Scottish independence: Alistair Carmichael 'may join' Team Scotland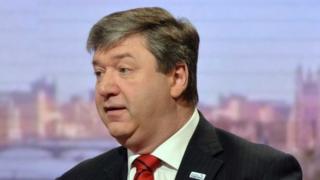 The Scottish secretary has indicated he could join Scotland's negotiating team for talks on independence if there is a "Yes" vote in next month's referendum.
The Scotsman newspaper quoted Alistair Carmichael as saying he would find it "difficult" to remain in his current job.
But he said be believed those negotiating on behalf of Scotland would face an "enormously difficult path".
Alex Salmond wants to set up a Team Scotland to negotiate independence.
The Scottish first minister has said the negotiating team would be drawn from politicians from across the spectrum, as well as experts from Scotland and abroad.
Mr Carmichael, the Lib Dem MP for Orkney and Shetland, told the Scotsman that, if the referendum resulted in a vote for Scotland to leave the UK, "it would be difficult to see how you could fit into a cabinet which was at the point on its way to becoming part of a foreign country".
When asked if he would join Scotland's negotiating team for independence talks, he responded: "Yes, if I was asked to. I mean if Scotland votes for independence then I will still want to be part of the Scottish public political life.
"I would have to be realistic about what could be achieved, but you know I am not walking away from Scottish politics.
"If that is something that happens then yes, I would want to get the best possible deal for Scotland. That's what I do at the moment and that's what I will always do in the future for as long as I hold the job I do."
Independence settlement
But he told the newspaper that those negotiating an independence settlement for Scotland in the wake of a "Yes" vote would face a tough task.
He said: "Unlike Alex Salmond I'm not going to try to pretend the job of that negotiating team will be straightforward or it will achieve the unachievable.
"If we go down the road of independence there will be an enormously difficult path. I know which side I will be on, but I would much rather not be put in that position."
In a television debate with Better Together leader Alistair Darling earlier this week, Mr Salmond said: "Whatever the result we are going to have to bring Scotland together.
"So as first minister I'm pledging that if there's a Yes vote then I will accept the obligation to have that 18 months of negotiation between the referendum and independence not just involving the Scottish National Party or the wider Yes campaign but all of the best talents of Scotland as part of Scotland's negotiating team to get the best possible settlement for Scotland."
A source close to the first minister said: "We are delighted that Alistair Carmichael has signalled he is willing to be part of the Team Scotland approach which will kick in after a Yes vote.
"This is very significant because it shows that even members of the UK Cabinet are now openly acknowledging that a Yes vote is becoming ever more likely as the Yes campaign gains ground every day of this campaign."
But Douglas Alexander, the shadow foreign secretary and a member of the pro-UK Better Together campaign, told BBC Radio Scotland that Mr Carmichael had been "stating the obvious".
Mr Alexander added: "His job as secretary of state for Scotland, Scotland's representative in the cabinet, would cease to exist when the United Kingdom ceased to exist.
"If Alex Salmond wants any advice from me I will start by taking a call from him today and give him the advice that the currency union he is proposing, far from delivering more powers for Scotland, would actually deliver less powers for Scotland."