Scottish independence: Brown and Darling at referendum rally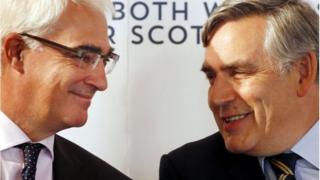 Former prime minister Gordon Brown has appeared alongside Alistair Darling to call on Scottish voters to reject independence.
It was rumoured the two men had a stormy relationship when Mr Darling served as chancellor under Mr Brown.
But they united to argue that the welfare state in the UK "offers better protection" for Scots.
Meanwhile, Scottish Health Secretary Alex Neil said a "Yes" vote was the best way to safeguard Scotland's NHS.
Mr Brown and Mr Darling spoke at a rally for the pro-Union Better Together campaign in Dundee on the day that Scots who have signed up to vote by post will start to receive their ballot papers.
'Better protection'
"We should vote not for a nationalist vision of Scotland's future, but for a patriotic vision of a Scotland playing its full part in Britain and in the world," Mr Brown said.
He added: "Our UK welfare state offers better protection for pensioners, disabled and the unemployed."
Mr Brown also attacked the Scottish government's tax plans, which include cutting corporation tax to 3p in the pound below the UK rate.
"It's the fat cats who will benefit most from the SNP's tax policies, not the ordinary people of Scotland," he claimed.
Mr Darling described Mr Brown as "my good colleague" while the former prime minister said it was "a real pleasure" to speak alongside the Better Together leader.
Mr Darling was Chancellor of the Exchequer in the UK Labour government from 2007 to 2010, later saying there had been "fundamental disagreement" with Mr Brown over economic policy and claiming he had faced "debilitating" attacks by No 10.
Mr Brown's speech at the Marryat Hall in Dundee was interrupted by a demonstrator, who was later escorted from the room.
'Serious consequences'
Mr Neil used a visit to an opticians in Glasgow to argue that a "Yes" vote for independence would protect the NHS from a "privatisation agenda".
The health secretary said: "Every £10 lost to the health and public services in England through austerity cuts, privatisation and patient charging will mean Scotland automatically lose £1 from our budget.
"It has been deeply disappointing to witness Labour politicians in Scotland trying to fool Scottish voters that the Tories and NHS privatisation pose no threat to public service budgets.
"South of the border Labour in England and Wales are warning of serious consequences to the NHS from Westminster's action."
Pro-Union campaigners have denied there would be a cut in health spending under the Barnett formula for distributing spending around the UK.