Scottish independence: Prof Stiglitz says pro-UK parties 'bluffing' over currency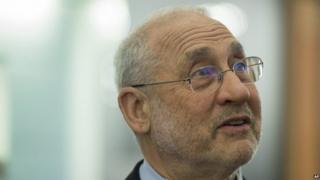 A Nobel Prize winning economist has described the row over what currency an independent Scotland would use as "a lot of to do about nothing".
Prof Joseph Stiglitz said he believed the refusal of the main Westminster parties to agree to a currency union was a "bluff".
And he argued such an agreement could still be made after negotiations.
The pro-UK Better Together campaign said a vote for independence was a vote to lose the pound.
Prof Stiglitz, who won the Nobel Prize for economics in 2001, was chairman of US president Bill Clinton's council of economic advisers.
He is also a member of the Scottish government's council of economic advisers and its Fiscal Commission Working Group which has studied the economics of independence.
Speaking at an event at the Edinburgh International Book Festival, Prof Stiglitz said there were a wide range of options for the currency of an independent Scotland.
He said Panama has used the US dollar for more than a century, while countries such as Canada and some European nations have adopted their own currency successfully.
Prof Stiglitz said: "One of the things as an outsider I've looked at the debate, particularly from the No side, I've been a little bit shocked how much of it is based on fear, trying to get anxiety levels up and how little of it has been based on vision.
"There is a vision on the 'Yes' side that I see - what would an independent Scotland be like, what could it do that it can't do now?"
'Best interests'
Regarding the rejection of a currency union by the Conservatives, Labour and the Liberal Democrats, he said: "For the most part these are bluffs."
"People are going to be looking at what is in the best interests of the each of the two parties and there will be a negotiation," he said.
"I think inevitably they are bluffing."
He argued a currency union could work, saying: "If you look at the statistics for the similarities of Scotland and England they are sufficiently similar that a currency area could work, that's what the Fiscal Commission recommended."
But he also pointed out: "Panama and Ecuador have adopted the dollar - it's worked for Panama for over 100 years. So the argument that England could decide I think is a little bit short-sighted."
He went on to state that countries such as Canada and some of the Northern European states used their own currency, saying: "There are many currency arrangements that can work, I think this is a lot of to do about nothing."
Prof Stiglitz added: "There are lots of different currency arrangements, I've outlined three different arrangements, all three of those could work. What really matters of course is the quality of the institutions.
"The main issues here are not currency, they're probably not even North Sea oil. I think the main issue again as an outsider, and not wanting to intervene in any other country's politics, the question is the vision of society, what do you want to do."
'Ruled out'
A Better Together spokesman said: "If we vote to leave the UK then we vote to lose the pound. A currency union has been ruled out for economic reasons. It would not work for Scotland and it would not work for the rest of the UK.
"Only today the first minister of Wales said he would not support a currency union.
"The people of Scotland need to know what Alex Salmond's Plan B on currency is. Up to one million people will begin voting by post this week yet we don't know what our wages, pensions and benefits would be paid in. We have no idea what money would be used to pay for our NHS. Alex Salmond wants us to take a huge risk based on his crossed fingers and guesswork. It isn't a risk worth taking."
But Scottish Finance Secretary John Swinney said: "Prof Stiglitz is right to see through Westminster's bluff and to highlight the fear-mongering of the anti-independence campaign.
"On education, health, growing the economy the Scottish government has supported policies that are good for Scotland while Westminster has simply pursued more and more austerity.
"The referendum is our one opportunity to choose prosperity and investment in our public services over austerity and continued Tory cuts."