Scottish independence: Campaigns set out rival visions of NHS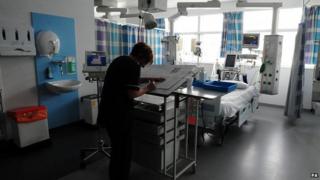 The "Yes" and "No" campaigns in the independence referendum have set out rival visions of the NHS in Scotland.
Deputy First Minister Nicola Sturgeon and Scottish Greens co-convener Patrick Harvie argued that a "Yes" vote would "save Scotland's NHS".
But former first minister Jack McConnell called on the nationalists to withdraw their "big huge lie" about the health service.
The politicians were speaking at different events.
Independence supporters argue that Scots should vote to leave the UK to protect the NHS from privatisation taking place south of the border, while pro-union campaigners point out that decisions on health are already devolved to the Scottish Parliament.
Speaking on a visit to Glasgow's Royal Infirmary, Ms Sturgeon said Scotland would "sleepwalk" into further spending cuts in the event of a "No" vote.
'Under threat'
She said: "Scotland's budget has already been subject to Westminster cuts and now Labour shadow health secretary Andy Burnham has said that the NHS south of the Border will be pushed "off the cliff edge" by Tory privatisation and cuts.
"Labour in Scotland must listen to the warnings from their colleagues south of the Border - the NHS is under threat from Westminster cuts and we must take action now to ensure we can continue to protect it."
She added: "We must vote 'Yes' to protect our NHS for future generations of Scots."
Also visiting the hospital, Mr Harvie said: "Scotland has been able to protect our public NHS so far, but without control of Scotland's finances and our own voice on the European stage, the danger of losing that ability is very real.
"I don't want to wake up a few years down the line and regret missing our one chance to keep the NHS we value."
'Huge lie'
During a Better Together event in Edinburgh. Mr McConnell dismissed the "Yes" camp's claims as a "desperate tactic" and said devolution had allowed Scotland to go its own way in improving the health service in areas such as the smoking ban and free personal care.
He said: "It is because the Scottish Parliament has power over the health service that the NHS in Scotland is not following the privatisation route favoured by Westminster.
"Scotland's NHS has been safe in the hands of the Scottish Parliament. Even the SNP boast about that.
"After four different first ministers and five different health ministers our parliament's record on health is without question our own responsibility and has been achieved without interference."
He added: "The idea that Home Rule inside the UK threatens the Scottish NHS is a lie. A big huge lie. It is their very own NHS - National Hysterical Soundbite.
"It is a diversion, a desperate tactic. Having criticised others for negative campaigning, it shames the 'Yes' campaign.
"And it avoids the questions they must answer before 18 September if Scots are to believe the NHS is safe in their hands."