Scottish independence: Henry McLeish says 'voting No has become difficult'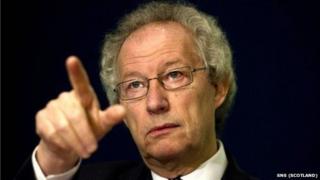 Former First Minister Henry McLeish has told the BBC that voting "No" to independence "has become difficult".
Speaking on BBC Radio Scotland's The Big Debate, Mr McLeish insisted he would still vote to maintain the Union.
But he said he was unsure what Scotland would get "when Westminster and the new government meet in 2015".
Former SNP leader Gordon Wilson, who backs independence, claimed "there will be people disappointed with the slowness of change".
There has been speculation that Mr McLeish, who was Labour First Minister from 2000-2001, will declare his support for a "Yes" vote ahead of the 18 September referendum.
Blair McDougall, director of the pro-UK Better Together campaign, tweeted after the programme: "Just heard from impeccable source that Henry McLeish endorsing Yes on Monday. Hardly a surprise but he's entitled to his view."
But Mr McLeish described the claim as "absolute rubbish".
In a BBC referendum webcast in April, Mr McLeish said he "would find it nearly impossible to vote 'Yes'."
'Highly partisan'
Asked on The Big Debate if he still intended to reject independence, Mr McLeish said: "I'm a 'No' voter, but I have been honest enough on public platforms and in a new book that voting 'No' has become difficult.
"The debate is very tribal, the debate is highly partisan. We live in a politic environment so there is nothing surprising about that.
"But on the other hand, what I think we have to make sure of in this debate, whether you're voting 'Yes' or 'No' is to try and maybe understand, all of us, the full implications because there's nothing black and white in the world.
"And what I'm arguing for is, if you vote 'Yes' you get independence, if you vote 'No' there's a bit of a hesitation as to what you get when Westminster and the new government meet in 2015."
Pressed on whether he would consider changing his vote to "Yes", he replied that "at this point" he was still voting "No", but added: "It doesn't mean I won't continue to irritate and annoy my own party and others by putting the issues that matter to Scotland."
He added: "This is a debate about the future of our country, not about the future of any individual party in it."
'Slow change'
Presenter Gordon Brewer asked Mr Wilson, who has been critical of the SNP's campaign for independence, if he would consider voting "No".
Mr Wilson, who led the SNP from 1979 until 1990, replied: "I wasn't entirely in agreement with many aspects of the campaign, because I didn't think it was strong enough in many ways. Having said it has come into line more with my own views in the last few weeks and I hope that will take us through.
"I look at this in the long term. Maybe it's something to do with age, but we're not looking at Scotland's future in terms of one, two, three years. It's five, ten fifteen, twenty years.
"As I put it, the good ship Scotland will slowly leave the UK dock, and there will be people disappointed with the slowness of change that takes place."
He said he backed independence because the rate of emigration from Scotland in the 20th century "shows that the Union is not delivering for Scotland."