Further warning over North Sea oil extraction figures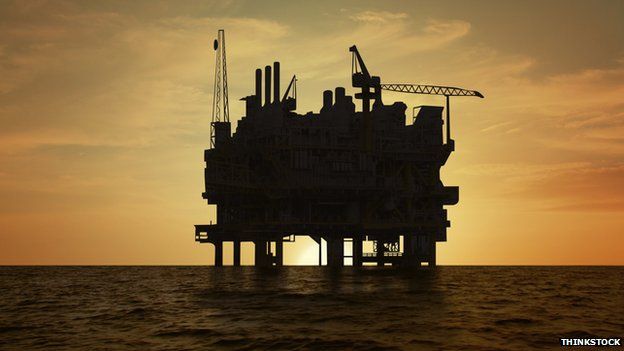 The chairman of a Scottish government commission into the future of North Sea oil has said the industry would be "hard-pushed" to extract 15bn barrels.
Melfort Campbell was responding to Sir Ian Wood's assertion that predictions of up to 24bn barrels were too high.
The 24bn figure is quoted in the independence White Paper as an estimate from industry body Oil and Gas UK.
The Scottish government said oil would be a "bonus", not the "basis", of an independent Scotland's economy.
On Thursday, First Minister Alex Salmond insisted that 24bn barrels of oil could be recovered.
But Mr Campbell, who chaired the independent expert commission on oil and gas which was commissioned by the Scottish government to find ways to maximise oil and gas extractions, said the 24bn figure was the "aspirational scenario".
He said: "There is fundamental agreement on reserves in the Independent Expert Oil and Gas Commission's Report and the Wood Review.
"Both state that the potential is 12bn up to 24bn."
He explained: "The 24bn figure is the aspirational scenario - the ultimate prize that we could win if there is a radical review of the fiscal and regulatory regimes and improved stewardship of the North Sea.
"This figure takes account of present, potential and probable discoveries. However, as our report states, the UK North Sea is at a crossroads.
"With current uncertainty, ageing assets, spiralling costs and the challenges of improving production efficiency and attracting investment, we will be hard-pushed to achieve the mid-range scenario of around 15-16bn let alone the holy grail of 24bn barrels."
A Scottish goverment said there was "a wealth of expert opinion on the huge scale of Scotland's long-term oil and other energy reserves".
He added: "Oil is a bonus for an independent Scotland's economy, and not the basis - our onshore tax revenues, excluding oil and gas, are roughly the same as those in the rest of the UK.
"As Standard & Poor's have observed, even without North Sea oil and gas, Scotland is a wealthy country which, as an independent country, would qualify for their 'highest economic assessment'.
"As we have said previously, North Sea oil will be a fantastic asset for an independent Scotland for decades to come, and we propose a stable tax and regulatory regime for the sector to help maximise recovery and revenues - unlike the fragmented regime under successive Westminster governments."
Earlier this week Sir Ian Wood, a leading industry figure who headed a review on how to maximise North Sea potential, predicted that oil production would be down to a sixth of the current levels by 2050.
But his figures were disputed by former UK government economic adviser Sir Donald Mackay, who said Sir Ian had underestimated the amount of oil left.
Sir Donald, who formally backed the "Yes" campaign last week, said: "In forecasting output, the first source I looked at was the Wood review in which Ian Wood states that "a number of larger new fields are about to come on stream in the next two or three years and that could take production back to the level of two to three years ago".
"Similar forecasts have been made by Oil and Gas UK and by Prof Alex Kemp and I have taken the former forward through my calculations.
'The result in output in the first five years from 2014-15 is much greater than that anticipated by OBR who, contrary to the views of the industry, predict a continuing fall in output right through to 2018-2020. Therefore that is a major factor in predicting much more substantial oil tax revenues than those predicted by OBR."
And speaking at First Minister's Questions at Holyrood, Mr Salmond said the equivalent of 15bn to 16.5bn barrels could be taken out up to 2050, with this rising to a total of 24bn in the years after that.
He added: "Every other country in the world would give their eye teeth for such a substantial resource, so why do the Labour Party and the Labour Party's allies think it is a great curse on Scotland?"
But speaking at an event in Glasgow, former prime minister Gordon Brown urged Scots to "think twice" before backing independence as he claimed that oil cash would only pay for a "fraction" of public services if the country left the UK.
Mr Brown said education, health, pensions and the rest of the welfare state, while the OBR had forecast that in 2016-17 - potentially the first year of an independent Scotland - oil revenues would be worth £2.9bn.
"The oil revenues, to be honest, are a fraction of what we need to pay for our public services," he said.