Scottish independence: Last debate at Holyrood before vote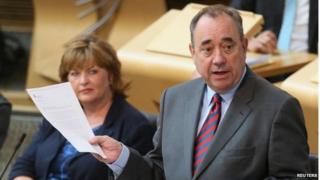 Members of the Scottish parliament have been debating the country's future.
They were meeting for the last time before voters in Scotland give their verdict on independence.
Voters in Scotland go to the polls on Thursday, 18 September, when they will be asked the "Yes/No" question: "Should Scotland be an independent country?"
First Minister Alex Salmond urged Scots to control "the nation's destiny"; Labour leader Johann Lamont said she backed the Union "head and heart".
Mr Salmond told MSPs the referendum would be "the first time ever the people of Scotland have had democratic control over their own destiny".
He went on: "When the polls close, let's not hand that control back.
"Let's keep Scotland's future in Scotland's hands, then come together to build the better Scotland we know is possible.
"We have the ability, the talent, the resources in abundance. The people of Scotland are waking up to the greatest opportunity we will ever have. On September 18 let's take it."
'Friends and neighbours'
Labour leader Johann Lamont said it was vital for Scotland to agree on a settled constitution, claiming the country has been "on pause" over the past two years.
She said: "It is incumbent on all of us to find a way through this debate without leaving us so damaged at the end that we cannot go back to democratic debate and policy."
Pledging her support for the Union "head and heart", she added: "The arguments of the head centre around the economy, jobs and pensions.
"The arguments of the heart are every bit as strong. I believe in working in co-operation with our friends and neighbours, whether they are in Liverpool or Manchester, Belfast or Cardiff, Glasgow or Edinburgh."
'Opportunity'
Conservative leader Ruth Davidson cited the record of the UK, including its overseas aid, contribution to scientific and medical research, and the role it has played in conflicts such as Kosovo.
She told the parliament: "When I look at Britain I see one of the greatest nations of this earth. I see a country that is willing to shoulder its burden, one that offers a platform of opportunity."
Scottish Liberal Democrat leader Willie Rennie said: "A No vote is a vote of confidence.
"A vote of confidence in the ability of Scots to be all they can be, to aspire in the finest traditions of our nation, confident to be part of something bigger, with global reach, of 60 million people, with an economic base with broad shoulders, proud to stand with the rest of our family in our United Kingdom."
Green MSP Patrick Harvie said Scottish politics had been "re-energised" by the referendum campaign, praising the "broad, creative, inclusive" debate taking place across communities.