Scottish independence: Leaders clash over oil in final first minister's questions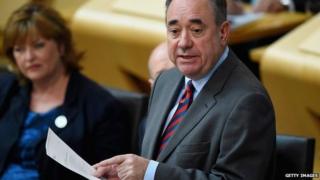 Alex Salmond has clashed with Labour leader Johann Lamont over oil figures in the final first minister's questions before the referendum.
Ms Lamont accused Mr Salmond of "not listening" to oil expert Sir Ian Wood, following his claim that Scottish government oil estimates were too high.
The first minister in turn accused the Labour leader of regarding oil as "a great curse on Scotland".
He insisted that 24bn barrels of oil could be recovered from the North Sea.
The figure of 24bn barrels is quoted in the Scottish government's White Paper on independence as an estimate from industry body Oil and Gas UK.
However, Sir Ian has claimed there were about 15bn to 16.5bn barrels of recoverable oil left, and that the figure from the White Paper was 45% to 60% too high.
Speaking in the Scottish Parliament, Ms Lamont said: "This is not a debating point between me and the first minister, it is what a senior person in the oil industry is saying, it is about the future of our country."
Analysis: Brian Taylor, BBC Scotland political editor
Customarily, in August, our MSPs would be absorbing the delights of the Festival or their constituency or Benidorm, according to whimsy.
But instead today they were participating in the final bout of questions to the first minister in this decidedly truncated off-peak session.
All changed, changed utterly. The voters, of course, will determine subsequently whether the prospectus on offer is terrible or imbued with beauty.
However, amid this political turmoil, some things remain steadfast. Some things do not change.
One is the disinclination of Holyrood's presiding officer to endure rannygazoo of any kind.
Mr Salmond said that the equivalent of 15bn to 16.5bn barrels could be taken out up to 2050, with this rising to a total of 24bn in the years after that.
Ms Lamont alleged that the first minister was "not listening" to Sir Ian, describing the former chairman of Aberdeen-based oil services firm Wood Group as "Scotland's greatest oil expert".
Mr Salmond said: "Every other country in the world would give their eye teeth for such a substantial resource, so why do the Labour Party and the Labour Party's allies think it is a great curse on Scotland?"
He joked that his opponents saw Scotland as "a poor benighted country visited with the great curse of 15bn barrels of oil", which could be worth up to £1 trillion in the years up to 2050.
The Labour leader said that Scotland "deserves not to have its intelligence insulted".
The exchange took place during the final meeting of the Scottish Parliament before the 18 September referendum, when voters in Scotland will be asked the "Yes/No" question: "Should Scotland be an independent country?"