Scottish independence: Cancer clinician attacks NHS claims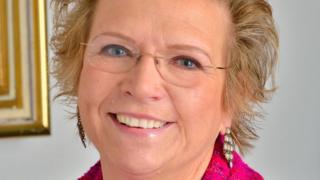 A retired cancer clinician has described claims that only independence can protect Scotland's NHS from privatisation as "utter lies".
The Scottish government has argued that "wholesale privatisation" of the NHS in England threatened Scottish funding.
It has proposed enshrining the right to free healthcare in the constitution after independence.
But in an interview with the Herald, Dr Anna Gregor accused some politicians and clinicians of "scaremongering".
Dr Gregor, who was awarded a CBE in 2005 for services to medicine, developed the Scan regional cancer network and led the Scottish Cancer strategy from 2001 until 2006.
She was quoted by the Herald as saying: "The thing that made me decide to talk about this subject is that both the politicians and, much to my chagrin, some of the clinicians are now scaremongering and telling the voters and patients that the only way to protect our NHS is to vote Yes. That is a total and utter lie."
Dr Gregor also said she took a "very dim view of clinical colleagues using our highly privileged position of trust with the patient population and the community to politically scaremonger."
---
What might independence mean for Scotland's NHS?
BBC Scotland health correspondent Eleanor Bradford looks at the future of the NHS if there were to be an independent Scotland.
Follow all the latest news, views and analysis about broadcasting and the referendum by going to the issues section of our Scotland Decides page.
---
She said devolution meant Scotland already had "complete freedom" over the NHS, as well as the ability to choose how and where to spend its block grant.
This had led to the "Scottish way of doing things" being "distinctly different" to that of England, she said.
While she did not agree with many of the healthcare reforms which were happening in England, she argued it was wrong to dismiss any use of the private sector as "evil".
She said dentists and opticians are run by private firms in Scotland, while Scottish patients are already sent to private hospitals for treatment in order to cut waiting lists.
Aging population
"I think the idea that somehow we will get infected by private enterprise creeping over Hadrian's wall is disingenuous at least," she added.
Dr Gregor said it was more important to focus on how the NHS should cope with an aging population and advancing technology.
She said: "We must stop using currency of buildings and beds, which is an outdated, 19th-century concept, and allow the health service to work with patients and communities to create an NHS fit for the 21st century and beyond."
Last month, Scotland's former chief medical officer, Harry Burns, told BBC Scotland he believed independence could be "very positive" for the country's health.
And an online video of leading breast surgeon Dr Philippa Whitford went viral after she told a Women for Yes meeting that Scotland's NHS would die within a decade if the country voted "No" in September's referendum.
Responding to the comments by Dr Gregor, a Scottish government ­spokeswoman said: "Under current funding arrangements, any cuts to the health budget in England through austerity, privatisation or patient charging will have a knock-on effect which cuts Scotland's budget.
"That is one of the reasons why the Scottish government believes that our health service would be better protected under independence.
"We are committed to protecting the founding principles of the NHS and maintaining it as a publicly owned health service, free for everyone at the point of use.
"We believe there should be constitutional protection for the NHS in an independent Scotland - which would ensure that the NHS will be in public hands for generations to come."
Labour MSP Jackie Baillie said: "The fact is, health is fully controlled by the Scottish Parliament but is funded through the pooling and sharing of resources across the whole UK. It is the best of both worlds.
"Scotland's NHS gets almost 10% more spending per head of population than in England. That means that yearly health spending is around £200 per person higher than the UK average. This is a clear positive benefit of staying in the UK."