Scottish independence: UK department denies advising staff to vote 'No'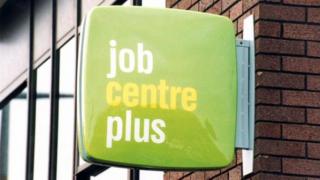 A Whitehall department has denied advising its staff to vote "No" in the Scottish independence referendum.
A memo issued to employees at the Department for Work and Pensions was described by unions as "badly worded".
Written by permanent secretary Robert Devereux, it described as "legitimate and necessary" civil servants' support for the UK government's position.
A spokesman for the DWP said "of course" staff in Scotland had not been told how to vote.
The memo said: "It is important that, as civil servants, we understand why the Scottish independence referendum is different from elections such as a UK General Election or a European Election.
"This is because the UK government has a clear position to maintain the Union and so it is legitimate and necessary for UK civil servants to support the government in this objective."
A spokesman for the DWP said the letter simply set out referendum guidance.
But the Public and Commercial Services Union (PCS) said the memo was "poorly written, ill-judged and patronising".
PCS Scottish Secretary Lynn Henderson said: "This is a very sensitive issue north of the border and one in which civil servants are all too aware of from both the UK and Scottish governments' respective positions on independence. They remain bound by the civil service code.
"The wording of this memo is not only clumsy but it also seeks to blame lower-graded civil servants for not understanding the instruction on how to conduct themselves as civil servants, rather than as voting citizens in a democracy. I suspect that the intent may have backfired somewhat."
Dave Penman, general secretary of the civil service union the First Division Association, said the memo was "factually correct" but could be interpreted differently by staff working at different levels and in different parts of the UK.
He added: "I think perhaps the tone and content of the memo has been a little ill-judged in dealing with 70,000 staff in DWP across the country."
First Minister Alex Salmond said the advice should be withdrawn and an apology issued over the memo.
He said: "It's deeply concerning. At the very least you would say it was loosely worded. If you were being really charitable you would say it was all a mistake.
"They should withdraw it immediately, they should clarify it. They are not to instruct the workers on how they should vote. That is something for a bygone age."
A Scottish government spokeswoman said: "As part of the Edinburgh Agreement, both the UK and Scottish Governments have committed to restrictions on publications in the 28 days before the referendum.
"The restrictions mean that in this period, publications and public-facing activity on referendum issues will take place on a campaign or party footing, and not through government.
She added: "Civil servants continue to operate normally, serving the government in line with the Civil Service Code."