Scottish independence: Back NHS in post-Yes constitution, says Alex Neil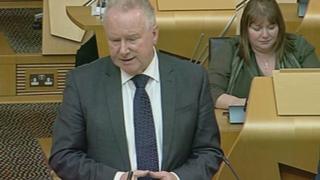 MSPs should back a proposal to enshrine the NHS in the constitution of an independent Scotland, Health Secretary Alex Neil has said.
Mr Neil called on all parties to back the commitment if there is a "Yes" vote to independence.
He argued that the NHS in England was being "privatised" and Scotland faced spending cuts as a part of the UK.
Labour health spokesman Neil Findlay claimed that independence would mean "£6bn in cuts to public spending".
Mr Neil made a statement to the Scottish Parliament in response to a question from Labour MSP Malcolm Chisholm, who asked about the consequences for the NHS of a "No" vote and a "Yes" vote in the referendum.
Healthcare right
The statement followed a proposal from Alex Salmond to include a right to free healthcare in the written constitution of an independent Scotland.
Mr Neil told MSPs: "This would ensure that, in contrast to what is happening south of the border, our health service could never be privatised against the wishes of the people."
He said he hoped all parties would support a constitutional commitment if there was a "Yes" vote, adding: "I note that all in this chamber say that they do not favour privatisation."
And he argued: "A 'No' vote is a very different and disturbing prospect for the NHS and our other public services.
"We have a Westminster government that believes in shrinking the state, believes in doing less through public provision."
'Scandalous deceit'
Responding to the statement, Mr Findlay said: "The biggest threat to the NHS in Scotland is the £6bn worth of cuts under their plans to break up the country."
He described the Scottish government's claims on the NHS as "the most scandalous deceit of this referendum campaign to date".
Scottish Liberal Democrat leader Willie Rennie said: "The NHS has received more money, not less, from every single UK government for decades."
Healthcare has become a key battleground in the referendum debate, with Scottish ministers and other pro-independence campaigners claiming that a "Yes" vote is the only way to safeguard the NHS.
Pro-Union campaigners have argued that health policy is already devolved to the Scottish Parliament, while being part of the UK ensures higher public spending.