Scottish independence: Post deleted from Better Together site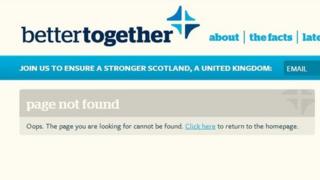 Better Together has removed a blog post from its official website amid allegations its author had expressed "unacceptable" views on Twitter.
The post, by Yvonne Hama, appeared on Sunday but was later deleted.
It came after social media users claimed Ms Hama had previously retweeted former BNP leader Nick Griffin and compared the SNP to Nazis.
Better Together said: "Yvonne is not a politician. However, views like this are completely unacceptable."
Both sides of the independence debate have attempted to distance themselves in the past from supporters who post abuse on social media.
'Keyboard warriors'
In June, Harry Potter author JK Rowling was the target of abuse after she donated £1m to the pro-UK campaign.
And pro-Union campaigner Clare Lally described being subjected to "disgraceful, shocking and disgusting" abuse by what she described as "keyboard warriors" after false information was posted about her on a nationalist website.
Ms Hama's article, entitled "Why I'm saying No Thanks", appeared on the Better Together website on Sunday but was inaccessible on Monday.
Her Twitter account also appears to have been disabled.
Ms Hama, who described herself as a single mother from Airdrie, apparently sent a tweet to Deputy First Minister Nicola Sturgeon in January 2012, which read: "u will like borgen...german...#snp nazis ring a bell :)".
She was also alleged to have retweeted a tweet from former BNP leader Nick Griffin later in the same year which read: "Greetings to all Ulster friends on the 12th July. Also all in Southport. Have a great day & No Surrender!"
Ms Hama appeared to have tweeted a photograph of herself alongside Better Together head Alistair Darling at an event on Saturday.
The text alongside the photograph read: "Was honoured to speak at the better together event in coatbridge alongside @TogetherDarling #indyref."