Scottish independence: Sir Tom Devine backs Yes campaign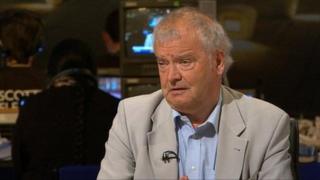 Leading Scottish historian Sir Tom Devine has announced he is now planning to vote "Yes" in the independence referendum.
Sir Tom told the Observer newspaper that he had originally intended to vote "No".
But he said he had been persuaded by what he described as a "flowering" of Scotland's economy.
Opponents of independence have argued that Scotland's interests are best served by remaining part of the UK.
Sir Tom, 69, was knighted in this year's birthday honours list for services to the study of Scottish history.
He is the author of more than 30 books, mainly on Scotland's history since the 1600s, and is perhaps best known for his work The Scottish Nation, which was published in 1999.
He told the Observer that he had until relatively recently backed a "devo-max" arrangement, with more powers devolved to the Scottish Parliament.
But he said he had since come to the conclusion there was now "very little left in the union except sentiment, history and family".
He added: "This has been quite a long journey for me and I've only come to a Yes conclusion over the last fortnight.
"The Scottish Parliament has demonstrated competent government and it represents a Scottish people who are wedded to a social democratic agenda and the kind of political values which sustained and were embedded in the welfare state of the late 1940s and 1950s.
"It is the Scots who have succeeded most in preserving the British idea of fairness and compassion in terms of state support and intervention. Ironically, it is England, since the 1980s, which has embarked on a separate journey."
Sir Tom also said there had been a "silent transformation" of the Scottish economy from heavy industry to a more diversified model.
He said: "We have a resilient economic system and reserves of one of the most important things for an independent estate: power.
"Power through the assets of oil and also through the potential of wind energy. In this, Scotland is disproportionately endowed compared to almost all other European countries."
His declaration was welcomed by Blair Jenkins, head of the Yes Scotland campaign for independence, who said Sir Tom offered "great insight" into Scotland's rise as a nation.
A spokesman for the pro-UK Better Together campaign said: "Everybody is entitled to their view in the referendum, but the majority of Scots are saying No Thanks to separation.
"Next week up to one million Scots will receive their postal vote forms, yet there are still so many unanswered questions about separation.
"Scots have no idea what our wages, pensions or benefits would be paid in. Alex Salmond can't, or won't, tell us what money we would use to pay for our shopping and energy bills. And we don't know what currency we would pay our rent or mortgage bills in."