Scottish independence: NHS becomes referendum battleground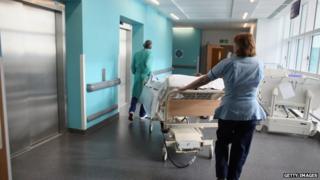 The health service has become a key battleground in the Scottish independence campaign.
The Scottish government claimed that "wholesale privatisation" of the NHS in England threatened Scottish funding.
A UK government spokesman denied this, saying Scotland's NHS was totally devolved and all policy and spending decisions were made in Scotland.
The Scottish Conservatives went further, accusing the SNP administration of a "smear campaign".
Voters in Scotland will go to the polls on 18 September.
They will be asked the "Yes/No" question: "Should Scotland be an independent country?"
Private healthcare
Earlier this week, the Scottish government said the right to free healthcare would be written into the constitution of an independent Scotland.
On Monday, First Minister Alex Salmond is to make what has been described as a new Declaration of Arbroath - pledging to protect the NHS from privatisation.
He said an independent Scotland would provide the opportunity "to protect our publicly-owned, publicly-run NHS forever from Westminster privatisation and cuts".
---
Daily question
As the people of Scotland weigh up how to vote in the independence referendum, they are asking questions on a range of topics.
In a series running up to polling day, BBC correspondents are looking at those major questions and shining a light on some of the possible answers.
Eleanor Bradford took a look at what independence might mean for Scotland's NHS.
---
Scottish Conservative health spokesman Jackson Carlaw said: "For all the SNP's tall talk on private healthcare, they have spent more than £400m on the sector since coming to power.
"The fact is the health service in Scotland is completely devolved and SNP claims that a No vote threatens its existence is nothing but shameless scaremongering."
Mr Carlaw added: "We believe there is a place for the independent healthcare sector, where it can act as a valuable resource to relieve pressure on the NHS when staffing and capacity are stretched.
"Perhaps it's time Alex Salmond acknowledged this, instead of misrepresenting the use of private care as part of his disgraceful approach of trying to fool people into voting Yes in September."
Health service
The UK government said it was now spending more money on the NHS, which it said meant Scotland had received more than £1.3bn extra to spend on the health service during this parliament.
But a spokesman for Scotland's Health Secretary Alex Neil said: "The No campaign's sensitivity on the subject of the NHS speaks volumes.
"The fact is, the moves towards wholesale privatisation of the health service in England threaten the funding available for Scotland's NHS.
"Only a Yes vote in the referendum can fully protect Scotland's NHS from Tory-led Westminster cuts and that is just one reason why so many people are deciding to back an independent Scotland."