Do you have a question for Alex Salmond or Alistair Darling?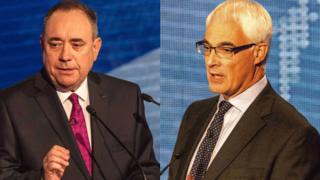 The BBC is hosting a debate between Scotland's First Minister Alex Salmond and the head of the Better Together campaign Alistair Darling on Monday, 25 August.
The event will take place at the Kelvingrove Art Gallery and Museum in Glasgow and comes ahead of the Scottish independence referendum on 18 September.
As part of our commitment to engage as widely as possible on this historic vote, we are inviting you to send in your questions.
If you would like to submit a question, and be considered as a contributor to the debate, please contact us by emailing referendumdebateapplication@bbc.co.uk
We will be in touch soon, asking for some more information about you.
Successful applicants will then be contacted over the next few days.
When voters in Scotland go to the polls next month they will be asked the "Yes/No" question: "Should Scotland be an independent country?"