Scottish independence: Yes vote 'will protect policing'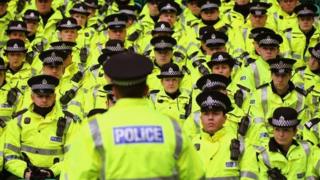 Three former senior police officers have said they believe independence would protect the Scottish force from what they described as the "slashing" of police numbers south of the border.
James Fraser, Allan Burnett and David Ross said police numbers in Scotland were at "record levels".
But they argued a "No" vote in the referendum would "put that at risk".
Labour MSP Graeme Pearson, who is also a former police officer, said the claim was "fantasy politics".
Mr Fraser, a former chairman of the Scottish Police Federation, was joined in declaring his support for the Yes Scotland campaign by Mr Ross - the federation's former vice-chairman - and Mr Burnett, who was formerly the counter-terrorism co-ordinator with the Association of Chief Police Officers Scotland (Acpos),
Policing is already fully devolved to the Scottish Parliament, but the three former officers said they were concerned the Barnett formula would be cut in the event of a "No" vote on 18 September, with a knock-on impact on Police Scotland's budget.
Mr Burnett, who is also a former director of intelligence at the old Strathclyde Police force, said: "September's vote is a huge opportunity to ensure that policing in Scotland goes in a very different direction from what we are sadly seeing in the rest of the UK right now.
"Police numbers are being slashed as part of Westminster's austerity programme. It is pretty clear that is exactly what is in prospect for the people of Scotland if there is a No vote next month.
"The Westminster government - whoever is in charge of the Treasury - will be looking to make substantial and painful cuts to Scotland's budget - and policing will be under severe pressure."
Mr Burnett said police numbers in England and Wales had fallen more rapidly than anywhere else in Europe in recent years.
Meanwhile, Scotland "continues to benefit from record numbers in the police service", he said.
Mr Burnett added: "A No vote will put that at real risk. A Yes vote will consolidate the progress in police numbers and conditions of service. A No vote ends all of that.
But Mr Pearson, a former head of the Scottish Crime and Drug Enforcement Agency, said 2,000 Police Scotland support staff jobs had already gone.
Mr Pearson - a supporter of the anti-independence Better Together campaign - added: "What has been done here in Scotland is a different approach in that the pain has been borne by support staff and not police officers.
"The notion that the Barnett formula will suddenly disappear post the referendum vote is, I think, fantasy politics. There is no indication that funding will change.
"There is no doubt that there are voices in England and Wales who have questioned for decades the additional 18% in public funding that comes north of the border to take account of our very particular circumstances."
Mr Pearson said a lot of work had been done in cutting costs through the creation of the single Police Scotland force.
He added: "I don't believe for one minute that a Scottish Parliament would want to further debilitate a police service through drastic cuts in the number of police officers."