Scottish independence: Economists offer rival viewpoints on currency issue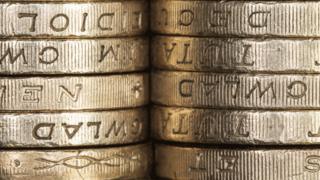 Currency has continued to dominate the independence debate with economists offering differing viewpoints.
Former UK government adviser Sir Donald Mackay said there was "nothing to stop" an independent Scotland using sterling without a currency union.
The Bank of England, meanwhile, issued a clarification following comments from Finance Secretary John Swinney.
It insisted it had not held discussions with the Scottish government about future monetary arrangements.
The Scottish government favours a formal currency union with the rest of the UK with the Bank of England as the central bank - but the main Westminster parties have said they would rule this out.
Sir Donald Mackay, who was an economic adviser to the secretary of state for Scotland, told BBC Radio's Good Morning Scotland programme that Scotland should continue to use sterling if voters backed independence in the referendum next month.
'Irish model'
"I would prefer that within a formal currency union because I think that would be in the interests of all of the UK, not simply Scotland," he said.
"If you couldn't do that, you'd follow the Irish model, that is, you'd simply shadow the pound.
"You would keep parity - you would use sterling. Sterling is an internationally traded currency. There's nothing to stop you using it if you want to."
Asked what Scotland's options would be if the UK government would not do a deal, Sir Donald said: "You would create a currency board, I suspect, which is what the Irish did, and eventually you would develop your own central bank."
When the Irish state first gained independence from the UK, it continued to use sterling for seven years, followed by its own currency, which it pegged to sterling for half a century.
'Cyclical' economy
However another economist, Ewen Stewart, told the same programme: "It's overwhelmingly in Scotland's interests to use sterling. Seventy percent of Scottish trade goes to the rest of the United Kingdom."
He added: "The major political parties in England have said that isn't an option and, to be honest, if you're going to separate, you can't expect to keep the good bits."
Mr Stewart, who opposes independence, has written a paper for the Scottish Research Society - which has registered as a backer of the No campaign.
He argues that if Scotland rejoined the EU and had to comply with its compulsory annual borrowing limit, every household in Scotland would be worse off by £3,400-£5,500 a year, plus another £500-£1,000 a year for every £100,000 borrowed on their mortgage.
"You could shadow the pound, there's little doubt about that, and that is seductive as an argument and it may well work for a period of time, until it doesn't," he claimed.
"The problem is that the Scottish economy is actually highly cyclical.
"It's dependant on three big sectors: the public sector, just over half the entire economy; oil, we've all agreed, is highly volatile; and the banking sector."
The Bank of England later issued a statement on comments made by Scottish Finance Secretary John Swinney that "technical discussions" had been held with the bank about the currency union plan.
The Bank of England statement said: "To be clear, consistent with its statement in December 2012, the Bank of England has not entered into discussions with representatives of the Scottish government about proposals for future monetary arrangements in Scotland.
"As the governor said yesterday, the design of any changes to UK monetary and financial arrangements would ultimately be a matter for negotiation between the Westminster and Scottish Parliaments.
"The Bank of England will deliver whatever remit it is given."
'Stringent rebuke'
Better Together leader Alistair Darling said he was unable to remember a time when the Bank of England had been forced to "rebuke a politician in such stringent terms".
He said: "Yesterday John Swinney told us the Scottish government was having discussions with the Bank of England on a currency union. Today the Bank of England have said categorically that no such discussions on future monetary arrangements took place."
A Scottish government spokesman said: "The Scottish government has had ongoing technical discussions with the Bank of England, as the bank itself has previously confirmed.
"These technical discussions were inaugurated by former governor Mervyn King and continued under the current governor, Mark Carney, as confirmed in the statement issued after the meeting between the first minister and Mr Carney on January 29 this year, which was agreed by the bank.
"We have always made clear that these are technical discussions and not negotiations, and that we respect the neutrality and independence of the bank, which had made clear it will implement whatever is agreed."