Scottish independence: BBC confirms Salmond-Darling debate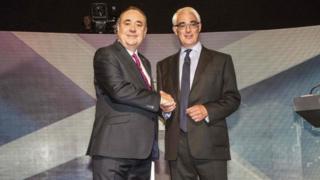 The BBC has confirmed it is to broadcast a live referendum debate between Alex Salmond and Alistair Darling on 25 August.
The debate between the first minister and the leader of the Better Together campaign will be held at the Kelvingrove Art Gallery and Museum in Glasgow.
It will be presented by Glenn Campbell and will be broadcast across the UK.
The 90 minute debate will also be attended by 200 members of the public.
They will put the representatives of the opposing campaigns on the spot as they seek answers about the choice Scotland faces in next month's referendum.
Other broadcasters
Audience members will be selected by polling and research consultancy ComRes to reflect a broad balance of views and their questions will feature prominently in the Scotland Decides: Salmond versus Darling programme.
The programme will also be shared as a simulcast with other broadcasters and media outlets, including newspapers.
It will be broadcast from 20:30 until 22:00 on BBC One Scotland and across the rest of the UK on BBC Two, including HD channels. At midnight, it will also be shown across the UK on BBC One.
The programme will air on the BBC News Channel and BBC World News which is available in over 100 countries.
Radio Scotland and Radio Nan Gaidheal will also simulcast the debate.
John Boothman, head of news and current affairs at BBC Scotland, said: "Interest among the voting public in this historic debate has consistently been high and our wide range of programming over many months has underlined our commitment to ensure audiences are as well informed as they can be about all the key issues.
'Historic significance'
"Debates on both radio and television, from across the country, have been a central part of our programming and they have given audiences the opportunity to interrogate representatives from both sides of the argument.
"We expect the audience at the Kelvingrove Art Gallery and Museum and those watching and listening at home will be in for an absorbing evening's debate on the referendum's burning questions."
He added: "Clearly the referendum is of huge historic significance and, as part of our public service remit, we are delighted we can offer live streams of the debate to non-BBC media outlets in Scotland and elsewhere in the UK."
Mr Darling and Mr Salmond clashed in a televised STV debate last week.