Scottish independence: Sir Brian Souter donates £1m to SNP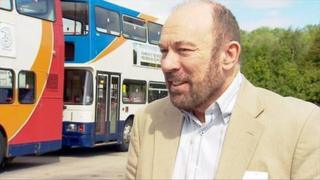 The Stagecoach boss Sir Brian Souter has donated £1m to the SNP, it has been confirmed.
Sir Brian had pledged to match pound-for-pound every donation received by the party during the year of the independence referendum.
The transport tycoon has previously donated to the SNP and other groups which back independence.
Prominent financial backers of the pro-UK campaign include author JK Rowling and oil magnate Ian Taylor.
Welcoming Sir Brian's donation, a spokesman for the SNP said: "The referendum is Scotland's one opportunity, and it's a fantastic sign of confidence that Brian and others the length and breadth of Scotland are stepping up to the plate to do what they can - so that we have the resources to take on the Westminster establishment and win that vital Yes vote."
Sir Brian recently donated £100,000 to Business for Scotland and to Christians for independence, which are both campaigning for a "Yes" vote in the referendum, which will be held on 18 September.
Figures released earlier this month showed that more than £200,000 was donated during July to groups campaigning in the referendum debate.
Better Together, which is campaigning for Scotland to remain part of the UK, has previously accused its rival of running front organisations to get around funding rules.
But Yes Scotland, which backs independence, has claimed the pro-UK campaign was being funded by wealthy landowners and "rich Tories" without a vote.