'McMafia' crime gangs targeted over illegal waste disposal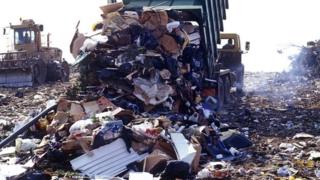 Environmental officers are looking to Italy to crack down on "McMafia" crime gangs who profit from illegal waste disposal in Scotland, MSPs have heard.
Holyrood's justice committee was told the gangs use violence and intimidation to secure waste disposal contracts, cut corners and fiddle taxes.
Similar tactics are used by Mafia families in southern Italy.
The Scottish Environment Protection Agency is liaising with international police groups to combat the criminals.
One tax-dodging tactic used by Scottish gangs involves mixing low tax waste, which costs £2.50 a tonne to dispose of, with high tax waste costing £80 a tonne.
SEPA enforcement manager William Wilson said: "Italy has a well-entrenched problem with Mafia clans, particularly within the waste sector in the southern half of the country.
"They are anxious to do more in relation to that."
'Bitter experience'
He added: "They have seen the export of that criminal model beyond the Italian borders, into eastern Europe in particular.
"We are in touch with Interpol and Europol and are anxious to take part in initiatives that look to learn from best practice and maybe the bitter experience of other countries."
Justice committee convenor Christine Grahame said the crime is still relatively unknown within the wider community in Scotland.
She said: "People just don't believe that we have a McMafia here - that serious organised crime perhaps is so clever in Scotland that they just don't think it's happening at that level."
Police Scotland Asst Chief Const Ruaridh Nicolson added: "Organised crime is unlikely just to be involved in environmental crime.
"They will have firearms, drugs, everything else you can think of.
"They are about making money, so it's about the threat, risk and harm to communities."