Scottish independence: Ten-point jobs plan unveiled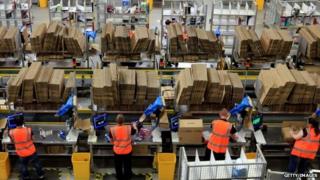 Scottish Finance Secretary John Swinney has unveiled a "10-point plan" for independence, with a focus on new jobs.
He said a "Yes" vote in the September referendum would allow Scotland to build on its strengths by gaining control over tax and economic policy.
Mr Swinney said independence was "not a magic wand", but said it meant policy could be tailored to Scottish needs.
Pro-Union campaigners said ministers had "zero credibility" until questions on Scotland's currency were answered.
The main Westminster parties have repeatedly ruled out the Scottish government's favoured option of a formal currency union, which would see an independent Scotland share the pound with the rest of the UK.
But Holyrood ministers said their plan was in everyone's best interests.
Ahead of the 18 September vote, Mr Swinney said: "Independence is not a magic wand, but the plan we have published today shows how future governments of an independent Scotland could tailor economic policy to put job creation first and deliver a long-term employment boost.
"With the right policies in place we could achieve full employment - giving our businesses a competitive edge and incentives to create more and better jobs here in Scotland."
The Scottish government said its 10-point plan for jobs would:
See 30,000 people starting modern apprenticeships every year by 2020
Provide tax incentives to get businesses to base themselves in Scotland, including a 3% cut in the headline corporation tax rate
Bring employers and unions close together to boost productivity
Boost industry sectors which can compete at an advantage internationally, like renewable energy
"Reindustrialise" Scotland with a focus on manufacturing, innovation and international trade and development
Set a minimum level of public sector capital spending as a percentage of GDP, to boost infrastructure and transport
Open a "Scottish business development bank" to support growing companies
Use a "new overseas network of 70-90 embassies" to boost Scottish international exports
Expand childcare to support the parents of young families into work
Tailor immigration policy to retain talented overseas students who want to contribute to the Scottish economy.
But pro-Union campaigner John Paul McHugh, assistant general secretary of Community Trade Union, hit out at the plan, saying: "The Nationalists don't seem to understand that their campaign has zero credibility on the economy and jobs until they answer most basic question - what will our currency be?
"Until the Nationalists set out their Plan B on currency the people of Scotland cannot trust their assertion.
"They are asking us to risk our savings and pensions, our bills and our mortgages, our rent and the value of our wages based on their guesswork."