Scottish independence: No campaign 'playing with fire' says Salmond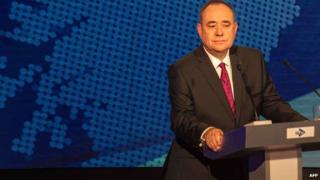 Campaigners for the Union are "playing with fire" by attempting to block a currency deal, Alex Salmond has said.
In a Sunday Herald article, he wrote that his opponents could not stop an independent Scotland using the pound.
The tactic would prove "dangerous" for the the pro-Union campaign, the first minister added.
Meanwhile the Better Together campaign claimed that using the pound without a currency union would mean job losses and and public spending cuts.
The leaders of the Conservative, Labour and Liberal Democrat parties at Westminster have ruled out sharing the pound in a formal currency union if voters back Scottish independence in September's referendum.
However, Scottish ministers have maintained that such a deal would be in the best interests of Scotland and the rest of the UK, as recommended by a fiscal working group set up by the Scottish government.
'No sense'
"There is literally nothing anyone can do to stop an independent Scotland using sterling, which is an internationally tradable currency," Mr Salmond wrote.
He continued: "As such, the No campaign's tactic of saying no to a currency union makes absolutely no economic sense.
"But it also makes no political sense, and is a tactic that is a deeply dangerous one for them.
"They are playing with fire, and they risk neglecting a cardinal rule of political campaigning, namely not learning your lesson from past mistakes."
The first minister argued that voters had seen a speech by George Osborne in Edinburgh in February in which the Chancellor said independence would mean walking away from the pound as a "bullying diktat from Westminster" which in fact benefitted the Yes campaign.
"If the No campaign think that spending the rest of this campaign telling ordinary people in Scotland that they have zero entitlement to a currency that is already theirs and which they can't be stopped from using in any case, they will pay a heavy price," Mr Salmond wrote.
'Disaster'
Meanwhile, the Better Together campaign argued that using the pound without a currency union - so-called "sterlingisation" - had been rejected by the Scottish government's own fiscal working group.
Labour MSP Jackie Baillie said: "It may make Alex Salmond feel all puffed up to say it, but 'it's our pound and we are keeping it' is not an answer.
"If he is hinting that we will use the pound the way that Panama uses the dollar, then it shows that he is prepared to take us all to the brink just so that he can win. For all of us, the Panama plan would be a disaster.
"If we follow Alex Salmond down this road we would see massive cuts to our schools and hospitals.
"We would see our financial services industry, which employs thousands of people, desert Scotland.
"Far from being an end to austerity, Alex Salmond's Panama plan would just make things worse for all of us.
"All of this is a risk we don't need to take. We can say 'No Thanks' in September and get the progress that we want, while avoiding the risks that we don't."