Food poverty in Scotland 'not acceptable' says Sturgeon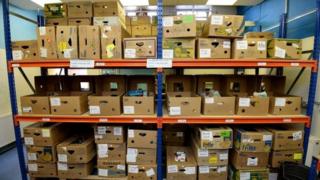 The level of food poverty in Scotland is "simply not acceptable", Nicola Sturgeon has said.
The deputy first minister announced £518,000 in funding aimed at tackling food poverty for 26 projects across Scotland.
She blamed welfare changes introduced by the UK government for a rise in food bank use.
Labour claimed the SNP would not be able to fund its welfare plans if it proposed to cut corporation tax.
Ms Sturgeon announced the funding during a visit to Maryhill Food Bank, which will receive £40,000.
The money will be distributed among 17 local authority areas.
'Directly linked'
"Most people recognise that the increase in food bank use is directly linked to welfare reform and benefit cuts, and this fund is another example of what we are doing to mitigate the harmful effects of Westminster's welfare cuts," the deputy first minister said.
She added: "One million people in Scotland are now living in relative poverty after housing costs, including more than 200,000 children.
"What is even more worrying is that 70% of the welfare cuts are still to come - Scotland will see its welfare budget reduced by over £6bn by 2015/16.
"And some estimates suggest that up to 100,000 more children could be living in poverty by 2020 if we continue with Westminster policies.
"It is vital that we gain the full powers of independence in order to build a better Scotland - one that protects people from poverty and helps them fulfil their potential in work and life."
Scottish Labour have claimed that proposals from the Scottish government to cut corporation tax if voters back independence in September's referendum would lead to more austerity.
'More austerity'
Labour MSP Jackie Baillie said: "The nationalists do not have a credible or costed plan for welfare in a separate Scotland.
"Scottish Labour will remove the need for food banks and we will build a fairer Scotland by restoring the 50p tax rate for people earning more than £150,000 a year.
"Warm words from Nicola won't end poverty. The only thing the SNP have said about tax is that they will cut corporation tax lower even than George Osborne for big business and bankers.
"People know that you cannot have Scandinavian-style welfare on US levels of taxation.
"We know that there will be more austerity with independence and the poorest will end up being hit the hardest."
The Trussell Trust said the number of people who used their food banks in Scotland between April last year and March this year rose to 71,428.
It said that figure was five times the number which used them during the previous financial year.
'Growing issue'
Keith Dryburgh of Citizens Advice Scotland, whose bureaux were among the projects to benefit from the new funding, said: "Food aid is a new and growing issue for CAB across Scotland with one in 50 clients now receiving advice on food parcel issues.
"We can point to a number of different factors which have contributed to this growing crisis including sanctions to people's benefits, reassessments to disability and sickness benefit and poor administration of benefits."
He added: "Change must focus on ensuring that claimants do not fall through the benefits safety net so people are not in crisis in the first place."
Peter Kelly, director of the campaigning organisation Poverty Alliance, said: "It is clear that the current social security system is not working.
"Both governments need to rethink how we support people so that no one is left without enough money to provide food for their family in 21st century Scotland."
In April, the Scottish government announced £1m to support the work of food providers through the Emergency Food Fund.
Half of that has been allocated to the charity FareShare, which redistributes surplus food from retailers to charities supporting communities.
Ms Sturgeon's announcement about the remaining £518,000 comes ahead of a welfare debate in the Scottish Parliament on Wednesday.