Scottish employment programme age limit extended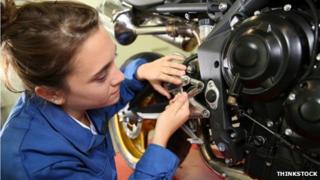 The age limit for a government-funded employment programme has been extended.
The Youth Employment Scotland Fund, administered by councils, will now be accessible to employers seeking to recruit people aged 25 to 30.
About 13,000 extra people will be eligible and it is hoped the measure will assist working mothers, care leavers and disabled people.
Further measures to help more disabled young people access training will also be announced in the coming days.
'Young suffer'
Angela Constance, secretary for youth, training and women's employment, said: "Scotland's economy has returned to pre-recession levels and the labour market is also improving, with employment at its highest level ever.
"However, we recognise that young people suffer disproportionately in a recession and that it takes longer for the youth labour market to recover."
She said the Scottish government was implementing recommendations made by the Commission for Developing Scotland's Young Workforce, chaired by retired oil tycoon Sir Ian Wood.
Its final report called for more to be done to help care leavers, disabled young people and other groups to make the most of available training places.
Douglas Chapman, from the council umbrella group Cosla, said: "Local authorities are in a unique position to make the transition from school to work as easy as possible, while at the same time assisting young people who may be struggling to get a foothold in the local jobs market.
"I believe that the changes to eligibility announced today, which for the first time will enable local authorities to help young people over the age of 24, will allow councils to assist even more young people and employers over the coming months.
"This has to be good for both young people, employers and the economy of Scotland as a whole."