Scottish independence: Next Darling and Salmond debate 'before end of August'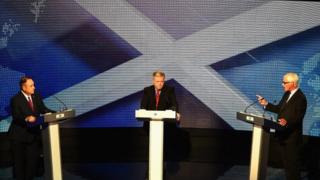 Alistair Darling, the leader of the Better Together campaign, says he expects to debate with Alex Salmond again before the end of the month.
The former Labour chancellor said the format and venue for the debate, to be hosted by the BBC, was still to be decided but the two sides had agreed on 25 August as the date.
It is understood a venue in Glasgow is being considered for the showdown.
It follows a debate between the two men on STV on Tuesday.
The commercial broadcaster said it was watched by an estimated 1.7m people, with both sides insisting their man came out on top in the two-hour debate.
Mr Darling said he hoped the second debate would be broadcast not just in Scotland but "throughout the UK and actually beyond that", adding that it was important to have the "widest possible circulation".
A spokesman for the Better Together campaign said they were also in negotiations with Channel Four and Sky News about head-to-head debates with the Scottish National Party leader, but that any such broadcast would have to happen soon.
The spokesman said Better Together would not agree to any dates after 25 August because "a quarter" of the electorate were expected to register their vote by post, with many likely to do so immediately after receiving their ballot paper.
Voters in Scotland will be asked the yes/no question "Should Scotland be an independent country?" on 18 September.
The spokesman also said that Mr Darling and Mr Salmond had agreed to participate in a web chat hosted by the Mumsnet website on a date still to be arranged.
'Configuration error'
A spokesperson for Yes Scotland said: "One of Yes Scotland's key aims is to mobilise people who are normally not interested in politics or who don't vote.
"This 'missing million' can ensure that the Scottish Parliament is given the full range of economic powers, only on offer with a Yes vote, that we need to create a fairer and more prosperous society.
"We look forward to future debates to communicate our positive message about the opportunity which independence offers to ensure that the wealth of Scotland works for all the people who love and work here. As we saw with the last debate, support for Yes increased by two per cent in two hours."
Meanwhile, STV has received an apology from online video partner Brightcove after some viewers were unable to access the online stream of the debate.
Brightcove's chief executive, David Mendels, said: "Our system is capable of significant scale, but in this case a manual configuration error resulted in the issues experienced by the public. We will work hard to ensure this never occurs again."