Scottish independence: Leading US politicians back Union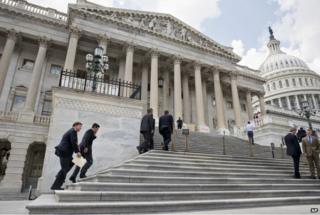 Leading US politicians have expressed their support for Scotland remaining part of the UK.
A total of 27 members of the House of Representatives supported a resolution backing a "united, secure and prosperous United Kingdom".
The move came ahead of the 18 September Scottish independence referendum.
Scottish First Minister Alex Salmond has said a "Yes" vote would mean the US would have "two great friends and allies here rather than one".
The resolution backed by the congressmen and women said a referendum "No" vote was "important for US national security priorities in Europe and around the world".
Brought in the name of democratic congressman Brad Sherman, of California, it also expressed "deep friendship" for Scottish people and said they "respect" their right to decide on independence.
Mr Sherman said: "The people of Scotland have an important decision to make and they will consider many factors, most of them domestic.
"However, some in Scotland may be interested in how we can work together most effectively for a secure, prosperous and peaceful world.
"It's clear from this side of the Atlantic that a United Kingdom, including Scotland, would be the strongest possible American ally."
The resolution has been supported by both Republican and Democratic members of Congress - which has 435 members in total - including the chairman of the house foreign affairs committee, Ed Royce.
Their sentiments echo those expressed by president, Barack Obama in June when he said the US had a "deep interest" in ensuring the UK "remains a strong, robust, united and effective partner".
The US had previously said it would remain "neutral" in the debate over Scottish independence.
At the time Mr Salmond said a "Yes" vote would mean, "America has two great friends and allies here rather than one".
He added: "Rather more than 200 years ago, America had to fight for its independence.
"We are very fortunate in Scotland that we have a democratically agreed, consented process by which we can vote for our independence.
"So in summary, I suppose my message to President Obama is: Yes we can."
Scottish Liberal Democrat MP Sir Menzies Campbell, speaking for the pro-Union Better Together campaign, said: "There is no doubt that, in both Senate and the House of Representatives, there is concern at the idea of independence for Scotland and the impact that would have on the UK, which is regarded as one of America's closest allies and with whom we have a unique relationship in the sharing of intelligence."
A spokesman for the Yes Scotland campaign for independence, added: "We're sure that everyone who genuinely has Scotland's interests at heart will be delighted in future years to see a fairer and more prosperous Scotland emerge using the great opportunities of independence to grow our economy and make an even bigger contribution on the global stage."