Scottish independence: Government 'determined' to remove Trident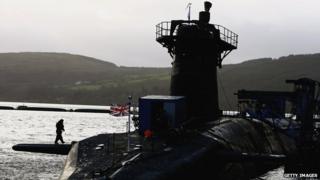 Scottish ministers want immediate discussions to remove Trident from Scotland if there is a referendum "Yes" vote, Keith Brown has said.
The veterans' minister said the Scottish government was "absolutely determined" to start talks straight after the referendum.
Labour's Iain Gray called the SNP "hypocritical" for favouring nuclear disarmament but wanting to join Nato.
He accused the SNP of using the nuclear debate as "a referendum tactic".
The UK's nuclear weapons system, currently made up of four Vanguard-class submarines which carry nuclear-armed Trident missiles, has been based at HM Naval Base Clyde on Scotland's west coast since the 1960s.
The Scottish government has backed the removal of Trident from Scotland if voters support independence in the referendum on 18 September.
'Determined'
Opening a Holyrood debate on Trident, Mr Brown said the Scottish government was "absolutely determined to begin in six weeks' time the discussion that would lead to the removal of nuclear weapons from Scotland".
He claimed that the Labour, Conservative and Liberal Democrat parties in Westminster "have signalled their support for a new fleet of submarines carrying Trident missiles" and independence was the only way to ensure disarmament.
The Scottish government motion for debate backed "the speediest safe withdrawal of nuclear weapons from Scotland".
It also called on the UK government "to set out which major defence procurement projects, or other areas of public spending, will have to be cut to pay for Trident renewal".
Mr Gray argued that the Scottish government's policy would not result in nuclear weapons being scrapped but simply moved to another part of the UK.
"What there is not a moral case for is moving nuclear weapons a few hundred miles south," he said.
"That's not disarmament, that's redeployment".
He alleged it was "hypocritical to say we shouldn't have nuclear weapons but we want to join Nato", adding: "To reduce it to a referendum tactic as this motion does is simply wrong and we will vote against it."
'Less influence'
Conservative MSP Annabel Goldie said: "At present, as part of the UK, we have a strong defence capability. An independent Scotland's defence capability would be much more limited, giving it much less clout, and much less influence, on the international stage.
"What we all want to achieve - multilateral disarmament - cannot be negotiated from a position of weakness."
Scottish Liberal Democrat leader Willie Rennie said MSPs "are all disarmers" - some unilateral, some multilateral.
He claimed it was "unfair" that the SNP questioned other MSPs' commitment to disarmament if they did not favour independence.
He added: "Glasgow and the west of Scotland would not be any safer if we move the nuclear weapons south of the border."
However, Scottish Green Party co-convener Patrick Harvie said the UK was planning "unilateral rearmament".
He added: "Scotland can lead the way by voting 'Yes' to independence and then giving an unequivocal 'No' to nuclear weapons."
MSPs accepted an amendment from Mr Harvie calling for "a constitutional ban on nuclear weapons in Scotland" before voting to back the Scottish government motion by 68 votes to 47.