Experts call for new Scottish towns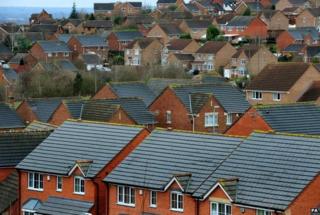 Scotland may need up to eight new towns to help avert a potential housing crisis, a special commission has said.
The Royal Institution of Chartered Surveyors-led group called for several new communities, which could be new towns or extensions to existing ones.
The Scottish Housing Commission also said the private rental sector needed to be expanded.
Scottish ministers said they were acting to increase affordable homes and support the housebuilding industry.
The housing commission highlighted problems with supply and demand, including shortages in housing land supply, new housing and rental properties.
Its report said:
The Scottish government should help deliver six to eight major new communities, which could be formed as new towns, "strategic regeneration" within existing towns or as extensions to existing growing communities.
Private housing rental should be a "key pillar" of the future housing system.
The Scottish planning system should deliver at least a 100% increase in effective supply of land for development by 2016.
The junior post of Scottish housing minister - currently Margaret Burgess - should be elevated to a cabinet level.
Scottish Housing Commission chairman Tom Barclay, said: "The imbalance that exists between supply and demand for housing remains an ongoing problem in today's, and potentially tomorrow's, Scottish housing market."
The Scottish government said the report was a "constructive contribution" to the debate on housing needs.
"We are taking action to increase the supply of affordable homes, deliver vital support for the housebuilding industry and support economic recovery," a spokesman said.
"Our investment of more than £1.7bn in affordable housing during the current parliamentary term is helping to deliver our target to deliver 30,000 affordable homes."