Scottish independence: Campaigners accuse BBC of referendum bias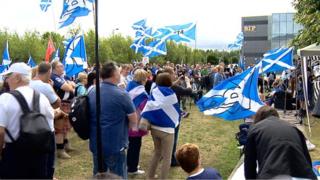 Protesters gathered near BBC Scotland's headquarters in Glasgow to protest over the corporation's coverage.
The protestors claimed the BBC's coverage of the referendum campaign and the conflict in Gaza between Israel and Hamas has been biased.
The BBC insisted that its journalism was "fair and impartial".
Organisers said more than 1,200 people took part in the demonstration, although Police Scotland put the number at approximately 400.
This was the third demonstration that the campaigners, supporters of independence, have held outside the BBC's Pacific Quay building.
Campaigner Moira Williams said she wanted information "delivered in an equal way".
A spokesperson for BBC Scotland said: "In terms of BBC Scotland's reporting of the referendum, our journalism is fair and impartial and in line with our editorial guidelines."
The Scottish independence referendum takes place on 18 September 2014.
Voters will answer the Yes/No question: "Should Scotland be an independent country?"