Scottish independence: Orange Order 'pro-UK' march approved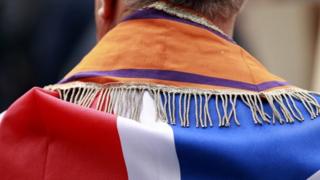 The Orange Order has been given permission to hold a pro-Union rally in Edinburgh five days before the Scottish independence referendum.
The Grand Orange Lodge of Scotland, which is an official backer of the "No" campaign, plans to hold the march on Saturday 13 September.
It said it expected more than 10,000 people to take part.
Edinburgh city councillors have now voted in favour of allowing the "British Together" event to take place.
Licensing committee convener Gavin Barrie said all of the correspondence he had received about the march had focused on the potential negative impact it would have.
He also said that no-one on the committee believed the march would add anything to the independence debate.
'Carnival elements'
But he said laws on free speech and human rights meant the council could not prevent it taking place.
Police Scotland had expressed some concerns about the parade but did not lodge a formal objection.
The march was approved after the Orange Order agreed to conditions including not playing instruments close to places of worship, and not wearing militaristic uniforms.
The Orange Order said the rally was intended to be a celebration of Britishness, and that it would look like an Orange parade but with "carnival elements".
A spokesman for Better Together, which is the official campaign against Scottish independence, attempted to distance itself from the Orange Order.
He said: "This organisation is not part of our campaign and never will be."
Earlier this month, a 12-year-old girl suffered a head injury after apparently being struck by a bottle as she watched a large Orange march in Glasgow.
A total of 18 people were arrested for offences including disorder and drinking in public.