Scottish independence: EC declines to comment on Juncker reports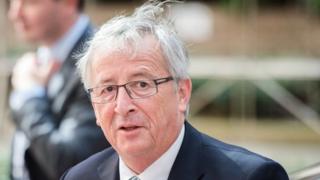 The European Commission has declined to comment on reports its president would be "sympathetic" to an independent Scotland's membership of the EU.
Scotland on Sunday quoted an unnamed EU official as saying Jean-Claude Juncker would not want Scotland to be kept out.
The source also said Scotland would be treated as a different case to other candidate countries.
An EC spokesman told BBC Scotland it had a policy of not commenting on reports based on anonymous sources.
Scotland on Sunday said it had been told by a "high-ranking EU official" that Mr Juncker, a former prime minister of Luxembourg, "would not want Scotland to be kept out" as it already met all of the criteria for membership.
It quoted the official as saying: "He (Mr Juncker) would be sympathetic as someone who is from a smaller country as he'll understand the obstacles that can be put in the way of less powerful member states."
First term
The official was also quoted as saying an independent Scotland would be treated as a different case to other candidates for EU membership, such as Albania, Iceland, Montenegro, Serbia, Turkey and Macedonia.
Scotland on Sunday said it understood the EU leadership regarded the SNP's timetable for being an independent nation in the EU within 18 months as being "unrealistic".
Instead, it was believed Scotland could be a full member early within the first term of an independent Scottish Parliament, the newspaper said.
When asked by BBC Scotland whether the article accurately reflected Mr Juncker's views, a spokesman for the European Commission said: "We never comment on unnamed sources".
Last week, pro-UK campaigners seized on comments by Mr Juncker that there would be no new members of the EU in the next five years
But his official spokeswoman later confirmed to the BBC that the president had not been referring to Scotland, which she said was an "entirely separate issue".
She added: "Mr Juncker has made his position on this clear on many an occasion: this is an internal matter of the UK and he will respect the result of the Scottish referendum."
Transition timetable
Referring to the Scotland on Sunday article, a spokesman for Scottish First Minister Alex Salmond said: "This confirms what we've said all along. Scotland is already part of the EU and as such already meets all the requirements for membership.
"The specific terms of continued membership as an independent country will be negotiated in the 18-month transition timetable we have indicated - a timescale described as 'realistic' by the UK government's own legal adviser.
"This proves that the No campaign's claims last week that Scotland would be out of the EU and have to get back in was yet more scaremongering from a clearly rattled No camp - and Alistair Darling should apologise for misleading the Scottish public."
He said that the "only threat" to Scotland's continued membership of the EU was Westminster's proposed in-out referendum.
But a spokesman for Better Together said: "President Juncker has made it perfectly clear that he agrees with his predecessor Jose Manuel Barroso and European Council president Herman Van Rompuy that if we vote to leave the UK we need to reapply to the join the EU."
Mr Barroso has previously said it would be "difficult, if not impossible" for an independent Scotland to join the EU.