Scottish independence: Sir Harry Burns says Yes vote could be 'positive' for health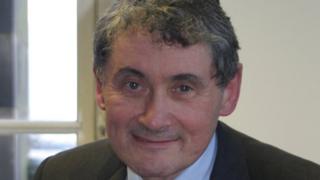 A former chief medical officer has said Scottish independence could be "very positive" for the country's health.
Sir Harry Burns told BBC Scotland that people's health could be improved if they felt more in control of their lives.
He also said he feared for the way the health service was going in England.
Pro-Union campaigners have previously argued that remaining part of the UK would "secure the best future" for the NHS in Scotland.
Speaking to the Crossfire programme on BBC Radio Scotland, Sir Harry said: "The question is, would people in an independent country feel more in control of their lives?
"If they did, then that would be very positive for their health. If people felt that they were able to engage more with local government, with central government and make choices more easily for themselves then that would improve their health."
He said the question of how independence would make people feel more in control would "depend very much on the political decisions that are made".
Health inequalities
But he added: "At the moment, decisions - particularly about the health service - being made in England are very different from the decisions being made in Scotland.
"That is very important because I fear for the way the health service is going in England."
Sir Harry stepped down in January after eight years as Scotland's top doctor, to concentrate on fighting health inequalities.
He has previously said that health inequality was the biggest issue facing Scotland.
On Thursday, Scottish First Minister Alex Salmond warned of a "growing threat" to the Scottish NHS from an agenda of "privatisation and fragmentation" at Westminster.
But speaking at the launch of the pro-UK NHS Together group earlier this month, Scottish Labour MSP Jackie Baillie said: "Our NHS is the best example of why we can have the best of both worlds for Scotland.
"Decisions about our health service are taken here in Scotland, by the people who live and work here. That's as it should be.
"The investment needed to sustain our NHS, however, comes from taxpayers across the whole of the UK, not just in Scotland, which is why spending on health here is higher per head than the UK average. That's a powerful and positive case for Scotland staying in the UK."