Scottish independence: Alex Salmond and Gordon Brown at Edinburgh International Book Festival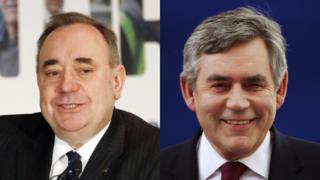 Alex Salmond and Gordon Brown will both appear at the Edinburgh International Book Festival next month to discuss Scotland's future.
Scotland's first minister will talk with Sir Tom Devine about the journey towards the independence referendum and what might happen afterwards.
Mr Brown, the former UK prime minister, will discuss his new book with the writer, Alistair Moffat.
Mr Salmond will appear on 11 August and Mr Brown on 15 August.
The referendum on Scottish independence will be held on 18 September.
Nick Barley, director of the festival, said: "The two events announced today offer our audience an exciting opportunity to get to the very heart of the independence debate.
"Two of Scotland's leading historians and writers are joined by politicians who are deeply committed to contrasting visions of Scotland's future.
"Their dialogues will examine Scotland's constitutional question and the nation's future relationship with the rest of the United Kingdom, from an informed, historical perspective."
The festival runs from 9 to 25 August in Charlotte Square Gardens and will feature more than 900 writers and thinkers from 47 countries.